Meizu M2 Note vs Xiaomi Mi 4i, Lenovo A7000 battery life testing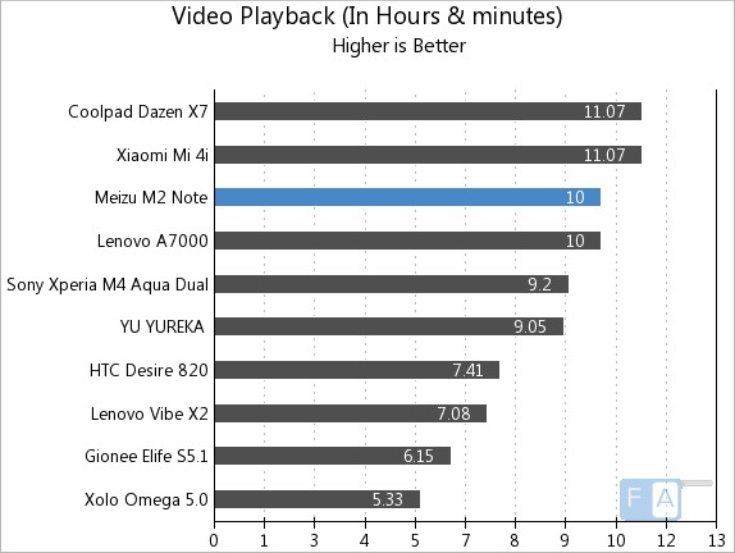 The Meizu M2 Note was made official last month and from its price at launch it looks as though this smartphone will offer real value for money. Many phone buyers are increasingly aware of battery life when trying to choose a new device, and this is an important factor for many. Today we have some news of the Meizu M2 Note vs. Xiaomi Mi 4i, Lenovo A7000 and others in battery life testing.
The Meizu M2 Note is equipped with a 3100 mAh battery while the Xiaomi Mi 4i's is 3120 mAh and the Lenovo A7000's is 2900 mAh. Therefore as far as battery capacity is concerned these devices are not too far apart. However, that doesn't always reflect in real-life usage, and that's where battery testing comes into play. Fone Arena has looked at the battery life of these devices and several others to see how they compare.
The testing involved four different categories, Talk Time, 3G Browsing, WiFi Browsing, and Video Playback. After each batch of testing the results of the Meizu M2 Note were placed on a chart reflecting where its performance stood among the other handsets. In the Talk Time test the Meizu M2 Note managed a time of 33 hours and 19 minutes. That put it equal top of the table alongside the Lenovo A7000 and Xolo Omega 5.0. The Xiaomi Mi 4i was further down the list on a time of 20 hours.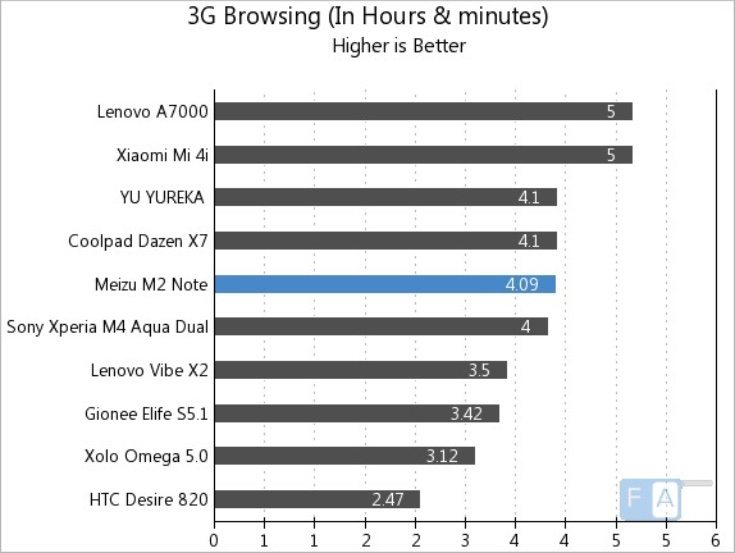 For 3G Browsing the M2 Note achieved a time of 4 hours and 9 minutes placing it midway on the table (shown above). The Lenovo A7000 and Xiaomi Mi 4i claimed joint top spot this time on 5 hours. Meanwhile languishing at the bottom was the HTC Desire 820 on just 2 hours and 47 minutes.
Next came WiFi Browsing and the Meizu M2 Note came first with a time of 6 hours and 39 minutes. The Lenovo A7000 and Xiaomi Mi 4i were equal second on 6 hours and 15 minutes. Again the HTC Desire 820 was bottom of the heap with only 3 hours and 12 minutes.
The final test involved Video Playback and the M2 Note was alongside the Lenovo A7000 on exactly 10 hours. However, top of the heap in joint first was the Xiaomi Mi 4i and Coolpad Dazen X7 on 11 hours and 7 minutes. This time the Xolo Omega 5.0 was in bottom spot with a time of just 5 hours and 33 minutes (see image below).
We've shown two of the tables here and you can see more at the source below, including Fone Arena's One Charge Rating. You might also like to check out our launch article on the M2 Note for more details on it. Are you satisfied enough with the battery life results of the Meizu M2 Note to make this your next device purchase? Let us have your comments on this.
Source: Fone Arena