Samsung Galaxy A8 price confirmed, for some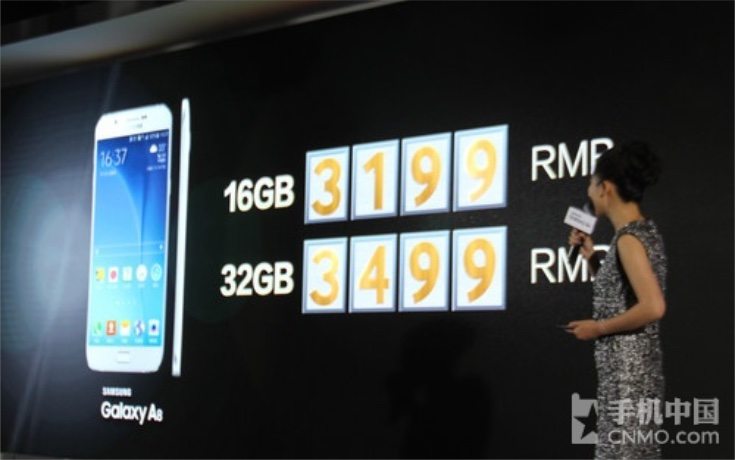 The wraps were officially taken off the Samsung Galaxy A8 two days ago. This looks like a decently specced mid-range smartphone and it has a stylish design. The handset has a metal frame and is extremely slim at just 5.9mm thick. Now the Samsung Galaxy A8 price has been confirmed, for some buyers at least.
The Samsung Galaxy A8 launched for China and will go on sale there this month. Unfortunately the company hasn't yet given any details about availability elsewhere. However, it seems likely that the phone will release for other regions very soon, and we imagine this could be a very popular Samsung handset.
As a key refresher on specs we'll tell you that the Galaxy A8 is powered by a Snapdragon 615 oct-core processor, with a 5.7-inch AMOLED display with resolution of 1920 x 1080. It has 2GB of RAM and comes in internal storage modes of 16 or 32GB. Further specs of the A8 include a 16-megapixel rear camera, 5-megapixel front-facing camera, and a 3050 mAh battery. It runs the Android 5.1 Lollipop operating system and has 4G LTE connectivity.
Now to pricing, and the Samsung Galaxy A8 price for the 16G option is CNY 3,199. That equates to around $515, £331, €473, or Rs. 32,720. If you want the 32GB option then the Samsung Galaxy A8 price is CNY 3,499. That's equivalent to around $563, £362, €518, or Rs. 35,780. We'll stress that the equivalent prices are merely indicators, as pricing often varies by region.
We'll be keeping our noses to the ground on more information on availability of the phone outside China, so be sure to check back with us from time to time. In the meantime we'd be interested to hear your thoughts on the Samsung Galaxy A8 price? Do let us know by dropping us your comments in the box below.
Source: CNM0
Via: Phone Arena