New Moto G leak reveals Moto Maker options for 2015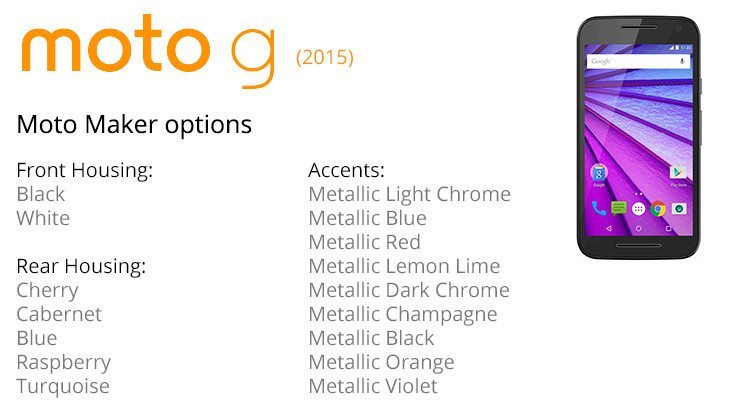 We don't have long to wait until Motorola shows off their next batch of handsets, and the third-generation of the Moto G will be one among them. Moto Maker has been rumored to expand this year, and a new leak shows the new Moto G will be getting a little love.
We've seen the Moto G 2015 specs and several photos of the smartphone have appeared as well. Needless to say, we know a lot about the device although we weren't sure about its Moto Maker availability. A new leak should finally put most of the rumors to bed as we know what Moto Maker customization options will be available for the handset in 2015.
The leaked material shows the third-generation Moto G will be available in Black or White on the front as expected. Consumers will be able to choose from ten colors when it comes to the rear housing though including a lively Lime, Gold, and Cabernet. There are ten accent options available as well to go along with a selection of wallpapers and five flip shell cases priced at $19.99 a crack. We'd be remiss if we didn't mention the option for 2GB of RAM and 16GB of storage as well…
It looks like Motorola is going to have a big year in 2015 if all the rumors surrounding their new lineup pan out. You can bet the farm the Moto G 2015 will sell like crazy, especially with the option for improved specs and Moto Maker.
Are you glad to see Moto finally expand the Moto Maker program to more devices?
via – GSMarena      source: Reddit