Moto G 3rd gen specs confirmed by dummy units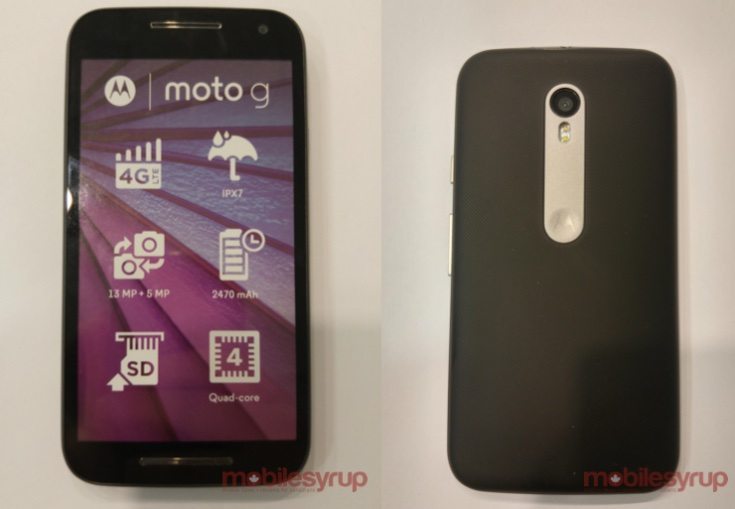 If you're waiting for the new Motorola Moto G 2015 then you may have been following all of the news and rumors so far. We've previously seen leaked specs and images for the third-generation Moto G but nothing official yet. However, some of the Moto G 3rd gen specs have now been confirmed by dummy units that have surfaced.
Leaks have increased in the past few weeks and a week ago we saw another round of unofficial specs and an expected launch date of July 28. Yesterday saw further news as the Moto G 3rd gen was shown to be in testing, bringing its release one step closer. Now two images have emerged of a new Moto G dummy unit showing the front and rear of the handset and giving us some more details. This unit were supplied for an in-store display in Canada, which also confirms availability there.
One of the things evident is that the Moto G 3rd gen is water-resistant to IPX7 certification standard. This certification ties in with an earlier leak although it doesn't look as though the phone will be dust proof. Other aspects shown in the leaked image of the Moto G 3rd gen dummy unit is confirmation of the quad-core processor, microSD slot, and 4G LTE connectivity. As far as the camera capabilities are concerned there's evidence of a 13-megapixel rear camera as well as a 5-megapixel front-facing snapper. A final reveal is the 2470 mAh battery.
It's worth saying that all of this tallies nicely with previous leaked specifications, and there are no nasty surprises to throw into the mix. We expect to see the new Moto G for 2015 made official at the event on July 28 and will keep you informed with further details. Are you a potential buyer of the Motorola Moto G 3rd gen? Let us have your comments.
Source: Mobile Syrup