Microsoft Lumia 950 XL render includes specs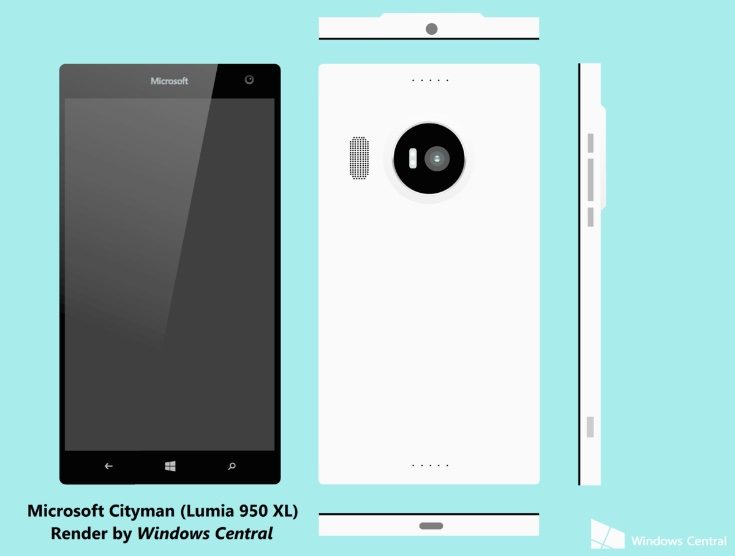 Interest is building nicely in upcoming Microsoft Lumia devices. New high-end smartphones are on the way and for some time they were rumored to be the Lumia 940 and 940 XL. However, recent evidence suggests they may end up being dubbed the Lumia 950 and 950 XL. Today we're showing a Microsoft Lumia 950 XL render that includes specs, and this offers a nice teaser for the real deal.
We've already seen concept ideas for the upcoming flagship Lumias, and also several leaks on specs. In our most recent report on the Microsoft Lumia 950 XL and 950 we gave the latest news on unconfirmed specs. The same source also tipped the phones to have slim metal builds for a premium look suiting a top-flight handset. The Lumia 950 is said to be codenamed the Talkman while the Lumia 950 XL is using the Cityman moniker.
We'll remind you that the phones will release running Windows 10 Mobile and rumors so far include a Quad HD resolution display for the larger 950 XL, although we're still not sure about the resolution for the smaller Lumia 950. Now Windows Central have come up with a Microsoft Cityman /Lumia 950 XL render that is based on sketches, internal documentation and also eye-witness reports so far.
Rather than a metal build, this render has a black or white polycarbonate casing with aluminum side buttons. On the rear there's a 1mm silver ring inside the circumference of the camera area, and the handset is said to be between 7 and 8mm thick and very light in weight. There has been previous speculation that the new Lumias might feature curved display panels but this render features a non-curved panel with glass covering the whole front of the handset. The volume control buttons are positioned either side of the power button and it's a very angular looking device.
The render also comes with a set of specs. Although these are unofficial, Windows Central says that they have been confirmed with numerous sources but could still be subject to change. Many of the provided specs tally with previously leaked specs. They include a Snapdragon 810 64-bit octa-core processor, 5.7-inch OLED display with Quad HD resolution of 2560 x 1440, 3GB of RAM, and 32GB of internal storage (expandable with microSD).
Further specs with this Microsoft Lumia 950 XL render include a 20-megapixel Pureview rear camera with triple-LED flash, a 5-megapixel front-facing camera with wide-angle lens, and removable 3300 mAh battery. The phone is claimed to feature USB Type-C, integrated Qi wireless charging, and an iris scanner. Optional accessories are said to include a Surface Pen and smart cover.
As far as availability is concerned it's thought that both the Microsoft Lumia 950 and 950 XL could be unveiled at IFA Berlin in September. Release dates are tipped for October/November with the smaller Lumia 950 arriving a few weeks before the larger XL model. We'll remind readers that all of this is unofficial at the moment, but the render could be close to the real thing and Windows Central is a usually reliable source.
Are you keen for the Microsoft Lumia 950 and 950 XL to be formally unwrapped? If the Microsoft Lumia 950 XL appears looking like this render would you be satisfied or not? Do let us know with your comments.
Source: Windows Central