The Xiaomi Redmi 2 Prime appears on Amazon India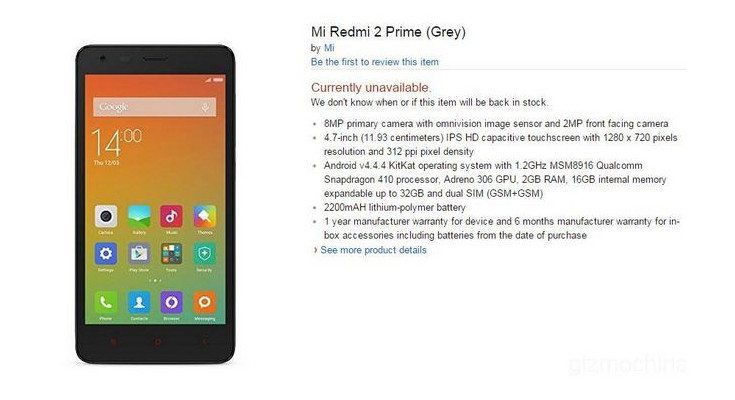 Asus is gearing up to unleash a slew of handsets for India in the coming weeks and it appears Xiaomi may have a device ready as well. The Xiaomi Redmi 2 Prime has mysteriously shown up on Amazon's India site which means the country could soon see an official release.
The Xiaomi Redmi 2 Prime is a slightly improved version of the handset by the same name. It was announced for China as the Redmi 2 Enhanced Edition, but up until now we hadn't heard anything else about the device. The handset listed on Amazon looks to be the same as the Enhanced Edition of the Redmi 2, but with a bit of a moniker switch.
According to the Amazon listing, which is currently unavailable, the Xiaomi Redmi 2 Prime sports a 4.7-inch display with a resolution of 1,280 x 720. It's powered by a 64-bit Snapdragon 410, but will have 2GB of RAM and 16GB of storage in place of the 1GB/8GB combo found in the regular version of the Redmi 2. The rest of the Xiaomi Redmi 2 Prime specs include an 8MP/2MP camera combo, microSD card slot, 2,200mAh battery and Android 4.4.4.
Xiaomi hasn't officially announced the Xiaomi Redmi 2 Prime release for India, and the Amazon listing just said "currently unavailable" which doesn't shed any light on things either. Considering the company has a birthday celebration coming up along with the release of MIUI 7, we could hear more about the about the device soon.
via – Gizmochina