iPhone 6 vs iPhone 4S in iOS 9 beta 5 bootup speed test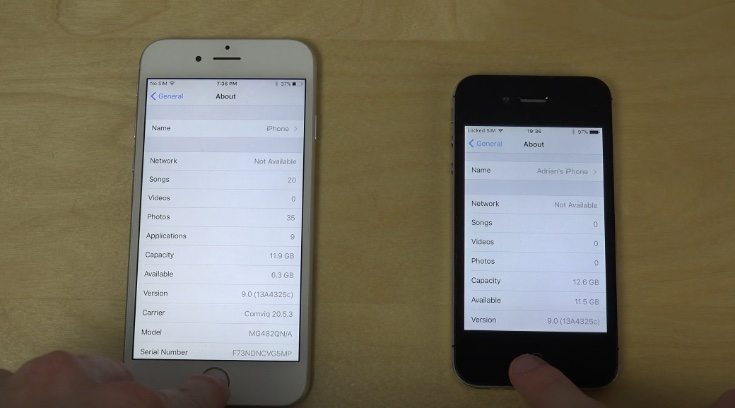 Apple recently seeded iOS 9 beta 5 to developers as well as making beta 3 of the iOS 9 public beta available. The final build is expected to release to iPhone, iPod touch and iPad users just before the rumored release timeframe of the iPhone 6S and 6S Plus around September. It's often interesting to see how different devices compare on new beta versions, and we have an iPhone 6 vs. iPhone 4S iOS 9 beta 5 bootup speed test to show you.
At the weekend we reported on the new wallpapers in iOS 9 beta 5 that are already downloadable for those iOS device users not using the beta versions. The latest beta of iO9 for devs also includes changes for the keyboard and CarPlay UI, as well as support for WiFi calling on AT&T and more.
A bootup speed test is pretty basic but it should be good to see how the older iPhone 4S stands up against the current flagship iPhone 6 in this respect. If you scroll down this page you'll see a YouTube video from Adrianisen that shows this testing. One thing immediately obvious is how very small the older iPhone is compared to the iPhone 6.
Both handsets are shown alongside each other and simultaneously powered up to see which one is ready for use first. You will not be at all surprised to learn that the iPhone 6 is the winner, but you may be surprised at the actual speed gap between the two. However, when we consider that the iPhone 6 released last year while the iPhone 4S arrived way back in 2011, the result isn't so remarkable.
The video also shows some further differences in speeds with the UI experience, multitasking, opening apps, Siri and more. We should point out though, that speeds for both may be improved by the time of the iOS 9 public release, so maybe the iPhone 4S won't be quite as slow by then.
When you've viewed the video below we'd appreciate receiving your comments. Were you startled by just how much slower the iPhone 4S is in this bootup testing against the iPhone 6 on iOS 9 beta 5?
https://www.youtube.com/watch?v=metmz9pjxzg://