Sony Xperia Z5 concept offers something different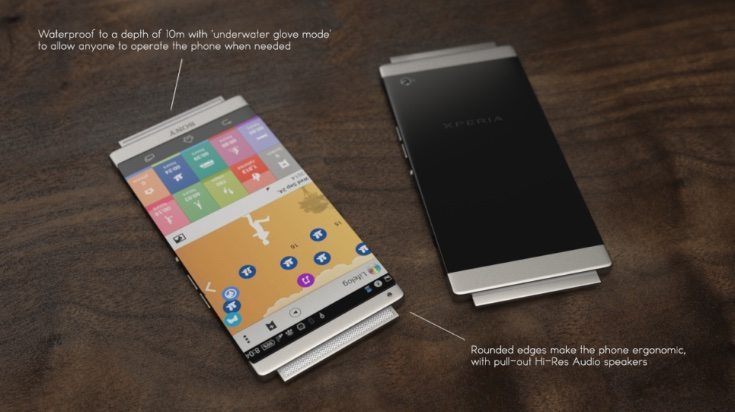 The next Sony flagship is already generating interest, and today we're showing you a Sony Xperia Z5 concept that has an interesting feature. We've already seen several design ideas for this upcoming smartphone and reported on leaks about the real deal. While we wait for more we can tantalize ourselves with this Sony Xperia Z5 vision that offers something a little different.
Although it hasn't been long since the Sony Xperia Z3+ and Xperia Z4 released, attention is already turning to the next top-flight Xperia handset in the form of the Z5. Rumors suggest this will arrive before the year is out and we've previously given some details on leaked unconfirmed Xperia Z5 specs as well as a possible James Bond collaboration.
This latest Sony Xperia Z5 concept follows on from several others that we've already shown, and you can compare this design with some previous examples here and here. This render comes from TechRadar and is envisioned as "the phone Sony should be making." The unusual feature that we mentioned earlier is pull-out high resolution audio speakers that bring something new to the table. These can slide out when required and then be discreetly hidden away again to revert to a more streamlined look, although we do wonder if they would be robust enough?
This Xperia Z5 styling has rounded edges for an ergonomic feel. It's waterproof to a depth of 10m and also features an underwater glove mode enabling input when submerged. TechRadar imagines this as having a 5.5-inch display that would step up to Quad HD resolution at last, as with many flagship devices from other manufacturers. As you can see from the image the display appears to wrap around the sides of the slim handset. Other inclusions are a 20-megapixel plus rear camera and fingerprint sensor.
We certainly admire the uniqueness of this new Sony Xperia Z5 concept and wonder what readers feel about it? Do you think the pull-out speaker feature is practical or a case of style over substance? Would you buy the genuine Sony Xperia Z5 if it looked like this? Do let us know with your comments.
Source: TechRadar
Via: Concept Phones