Moto 360 sequel leaks with large posts and flat tire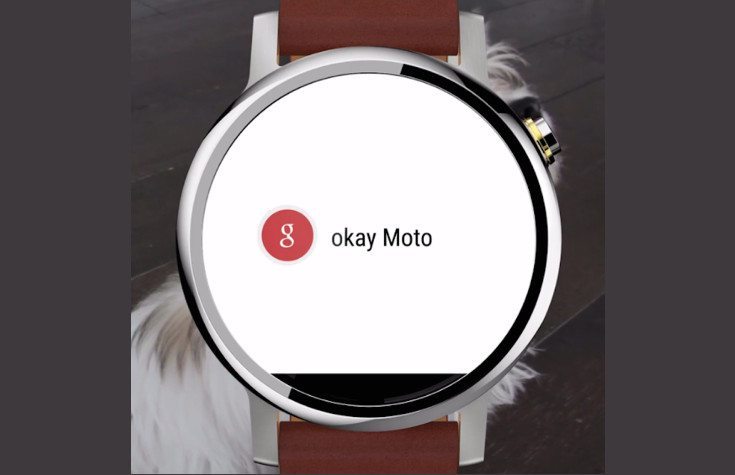 It's becoming common to see a smartphone, tablet or smartwatch get leaked through official channels before they launch. The Moto 360 sequel may have just joined the club thanks to a tweet sent out from Motorola this evening. If it's legit, people are going to be irate…
It's safe to say a lot of people are waiting on new Android Wear smartwatches to arrive. Everyone knows Motorola has one in the works with the Moto 360 sequel, which was teased back in March by Lenovo. Those pics showed a similar device that appeared to have the dreaded "flat tire" found on the original. Guess what's in the new leaked pic?
Motorola sent out a tweet earlier today with a video touting their smartwatch's voice search capabilities. We missed it, but the eagle-eyed folks at 9to5Google did not so we have the screenshot you see below. It lines up perfectly as you can match up the revamped posts and crown in both leaks. You can also clearly see the "flat tire" in both of them, so it appears Motorola decided to keep it for some odd reason.
Samsung's gotten a lot of heat for the Galaxy Note 5 release, and Motorola looks to be next in line with the Moto 360 2. We can't imagine any good reason for leaving that dead black space on the watch considering the Samsung Gear S2 and the Huawei Watch are both completely round. Unless they just view the device as a minor upgrade or refresh and not a true sequel.
If the leak is actually the real deal, the larger posts do give the device a more traditional style, but the flat tire is still an eyesore. As the original Moto 360 arrived last September, we expect to hear something official soon.
What do you think of the Moto 360 sequel?
via – 9to5Google