Windows 10 Mobile latest preview vs WP 8.1 speed comparison on Lumia 930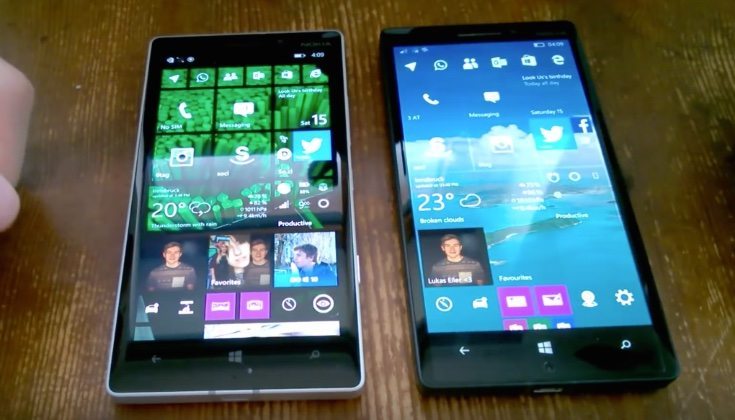 Many people are eagerly waiting for the Windows 10 Mobile update that is expected to land in fall. The OTA update will be made available for various existing Lumia smartphones and is also expected to feature on the heavily rumored Microsoft Lumia 950 or Lumia 940 and XL version. Today we're showing the Windows 10 Mobile latest preview vs WP 8.1 in a speed comparison on the Lumia 930.
The well-liked Nokia Lumia 930 released last year running Windows Phone 8.1 and is one of the devices that will receive the upgrade to Windows 10 Mobile (see details of update list). The YouTube video that we've positioned below this story shows a Lumia 930 running the Windows 10 Mobile Insider Preview build 10512 against another 930 running WP 8.1.
One thing to stress before you watch the video is that this is not the final build of Windows 10 Mobile and so we can expect more improvements to performance and stability with the finalized version. Therefore we shouldn't be too surprised if the Lumia 930 running Windows Phone 8.1 currently offers the better experience. The latest technical preview of Windows 10 Mobile shown in the video does contain speed improvements over earlier builds although there are no new features.
The video look provides a chance to check out several different aspects including bootup speeds, unlocking, the start screen, app loading, built-in apps, browser performance and more. By the end of the 12-minutes it's fair to say that WP 8.1 currently still offers the best performance. However, as we mentioned previously there are bound to be further improvements to Windows 10 Mobile before the final release. Hopefully once it's ready it will outshine Windows Phone 8.1 on the Lumia 930.
What do you think of this early look at Windows 10 Mobile on the Lumia 930 and the comparative speeds against WP 8.1? Are you itching for the final build of Windows 10 Mobile to be ready? Send your comments to let us know.
Source: OneTechStop
Via: WMPowerUser
https://www.youtube.com/watch?v=cdBkWYLfrjA://