Nexus 6 Android Marshmallow vs Galaxy S6 Edge Lollipop bootup speed test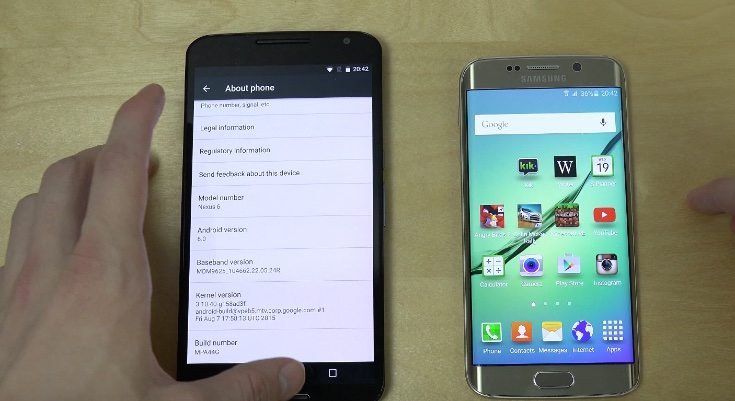 There are many Android device enthusiasts looking forward to the release of the previously known Android M update. The name has now been confirmed as Android 6.0 Marshmallow, and it's often interesting to see how upgraded OS versions compare against previous versions on high-end devices. Today we're showing a video of the Nexus 6 running Android Marshmallow vs Galaxy S6 Edge on Lollipop in a bootup speed test.
The Nexus 6 will soon be usurped by the new Nexus 2015 smartphones, and one of the much-loved features of Nexus devices is that they are the first to receive Android updates. Meanwhile the Galaxy S6 Edge is a more recent release and owners will be eager to get the Android Marshmallow update as soon as possible after its general release.
For now Android 6.0 Marshmallow is in the developer preview stage. This enables us to get an advance look at it running on the Nexus 6 as shown in the YouTube video below (developer preview 3) from Adrianisen. Meanwhile the Galaxy S6 Edge shown here is running Android 5.0.2 Lollipop with Samsung's TouchWiz UI. First up we see the bootup test with both phones being powered up at the same time to see which is ready for action first.
Interestingly the Samsung Galaxy S6 Edge on Lollipop is the first to be ready by a notable margin. Of course we should remember that by the time Android 6.0 Marshmallow makes a final release it will have received further optimizations and speed performance improvements. It would be interesting to see the same bootup test again at that stage.
After the bootup the reviewer goes on to give us a further look at Android 6.0 Marshmallow on the Nexus 6, with some interesting observations along the way. For example app opening times are similar, but Android M at this point currently lacks a 'close-all' button. Give us your thoughts on this bootup testing between the Nexus 6 on Android 6.0 Marshmallow vs Samsung Galaxy S6 on Android Lollipop.
https://www.youtube.com/watch?v=AGplfxLyxL4://