iPhone 6 iOS 9 vs Nexus 6 Android Marshmallow speed test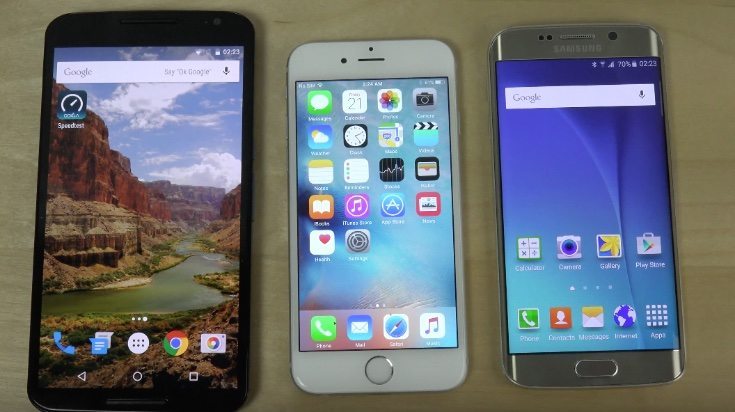 Upcoming versions of operating systems are always interesting to compare, and the iOS and Android platforms both have new versions in the pipeline. iOS 9 is currently in beta while Android 6.0 Marshmallow is available in a developer preview. Both are set to make a public release in fall. We came across a speed test video of the iPhone 6 running iOS 9 vs Nexus 6 on Android Marshmallow.
Recently we shared a video showing a bootup test between the Nexus 6 on Marshmallow (developer preview 3) and the Samsung Galaxy S6 Edge on Android 5.0.2 Lollipop. It surprised a few of us when the Galaxy S6 Edge was the fastest to be ready for action, and posed the question of how much faster it would be if it was also running Android 6.0 Marshmallow.
Today's video shows both of these phones on those same operating system versions, this time joined by the iPhone 6 on iOS 9 beta 5 in an Ookla speed test. The YouTube video comes from regular contributer Adrianisen, and at the beginning of the test you'll see all three handsets alongside each other. The reviewer then heads into Settings to prove they are indeed running the claimed versions of the operating systems.
The phones are all connected to the same WiFi and server and the Ookla Speed test is then conducted. You'll be able to check out the download and upload speeds attained by all three handsets to see how they compare. The same test is then repeated using a different server, and although all achieve good results the iPhone 6 on iOS 9 beta 5 is the slowest performer.
Something to remember is that this is still a beta of iOS 9 and a developer preview of Android 6.0 Marshmallow, and performances are likely to be further optimized by the time they arrive at their final builds. Another thing that would be interesting to compare is the upcoming iPhone 6S running iOS 9 in a similar speed test when the phone releases in fall.
When you've taken a look at the video below we'd be interested to hear what you think. Drop us any comments you have about the iPhone 6 on iOS 9 beta 5 vs Nexus 6 on Android Marshmallow using the comments box provided.
https://www.youtube.com/watch?v=39E2EuSC7fw://