Microsoft Lumia 950 in white and dimensions leaked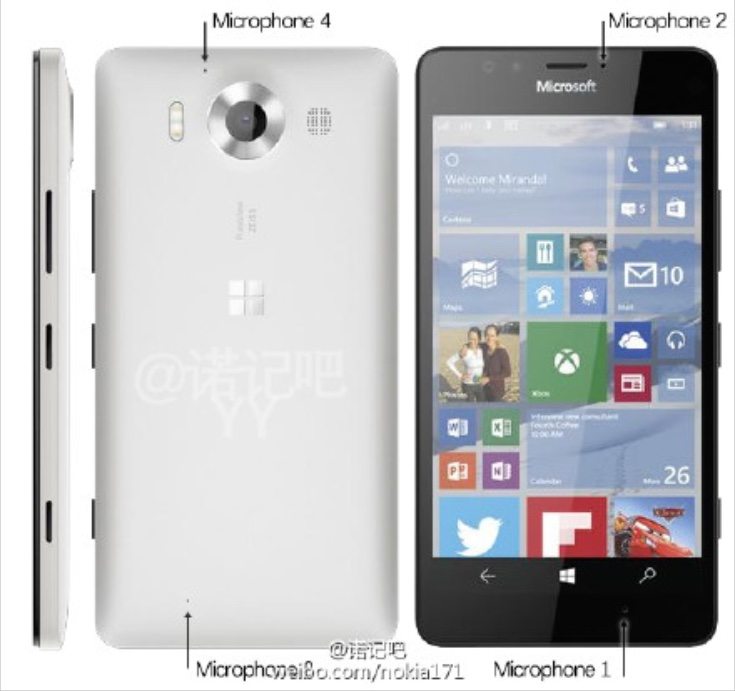 Regular readers of Phones Review will know that we've been closely following developments of the Microsoft Lumia 950 and Lumia 950 XL. These are alternatively known as the Talkman and Cityman respectively and tipped to make an appearance at an event to be held in October. Today we have a new image purporting to show the Microsoft Lumia 950 in white, and dimensions have also been leaked.
We've written about the Microsoft Lumia 950 and Lumia 950 XL for months now. In fact at various points these high-end flagships have been known as the Lumia 940 and 940 XL although 950 seems to be the name that's sticking at the moment. Lumia fans have been extremely patient waiting for new top-flight Microsoft phones, especially given the amount of lower to mid-range Lumia handsets that have released this year.
The wait goes on but there are increasing signs that we are getting closer to a launch. Just a few days ago we showed some claimed press shots of the Microsoft Lumia 950 in a black color and the Lumia 950 XL in blue. As these images came from an extremely reliable source we were inclined to feel they were the real deals. Now another image has emerged from a different source, this time claiming to show the Lumia 950 in a white color.
This ties in nicely with the handset shown in the previous leak, although in a different color of course. The new leak also includes the dimensions of both the Lumia 950 and larger Lumia 950 XL. The Lumia 950 is said to measure 145.6mm x 73.4mm x 9mm and the 950 XL measures 153mm x 79mm x 8.6mm. Another revelation from the new leak is the seeming confirmation of HAAC recording technology, with four microphones present.
You can check out leaked specs on both handsets in our previous article on the Lumia 950 linked to above. From what we've seen and heard so far it looks as though the Microsoft Lumia 950 and 950 XL could live up to the anticipation, but we'd like to hear your views on this. Are you counting down the days until new Lumia flagships are released?
Source: Nokia 171 (Weibo)
Via: NPU