Sony Xperia Z5 in screenshot image ahead of launch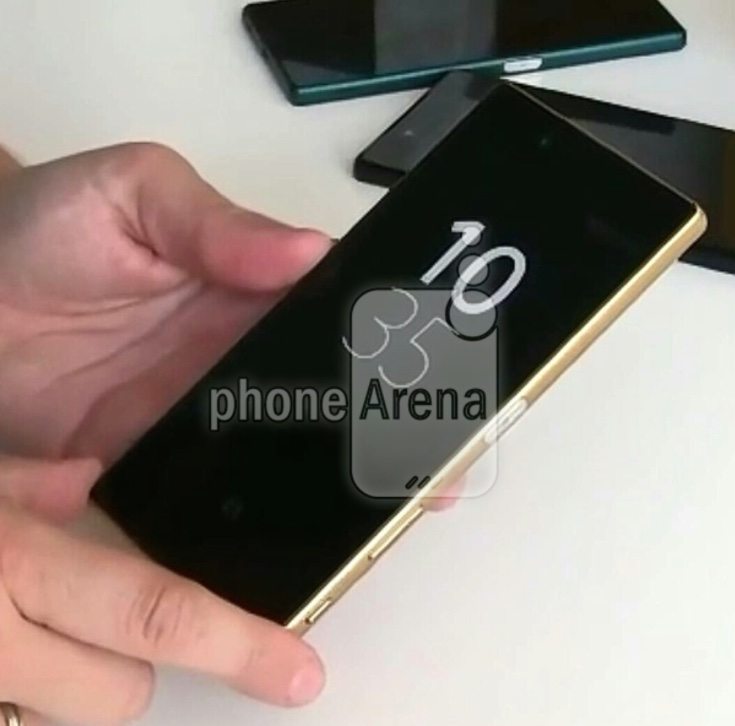 IFA Berlin kicks off later this week and we're looking forward to a wealth of new devices. Many readers will be waiting for new Sony Xperia smartphones, and Sony is holding a pre-IFA event on September 2nd. Recently it was tipped that the Sony Xperia Z5, a Z5 Compact and Z5 Premium would all be officially debuted at the event. Now we can show you the Sony Xperia Z5 in a screenshot image ahead of the launch.
It was only a few days ago that we reported on a leak from a Sony Facebook account revealing that three new Sony Xperia Z5 variants would be unveiled this week. This has now been backed up by a Phone Arena report citing a tipster who also says that an Xperia Z5 will be introduced as well as a Sony Xperia Z5 Compact and Sony Xperia Z5 Premium version. This source also provided a screenshot from an unreleased video that shows the Sony Xperia Z5.
Unusually, these three new Xperia Z5 phones are all said to have a fingerprint sensor on the side of the handset. The image shows that the volume rockers and power button have been moved further down to accommodate this. Eagle-eyed observers may also have spotted two more handsets in the background, and these are said to be two more units of the Sony Xperia Z5 in alternative colors.
Leaked specs for the Sony Xperia Z5 flagship include a 2GHz Snapdragon 810 processor, Adreno 430 graphics, a 5.2-inch display with Full HD resolution of 1920 x 1080, 3GB of RAM, and 32GB of internal storage. It's rumored to have a 23-megapixel rear camera and 8-megapixel front-facing shooter.
If a smaller phone is more your thing, the Sony Xperia Z5 Compact is rumored to have a 4.6-inch display with HD resolution of 1280 x 720. If you want the best display resolution you'll get that with the Sony Xperia Z5 Premium. This is tipped to have a 5.5-inch display with Quad HD resolution of 2560 x 1440, (not 4K Ultra HD as was previously leaked and we thought was doubtful), and a 23-megapixel rear camera cable of 4K video capture.
Are you eager to see developments unfold from IFA Berlin that begins on September 4? Are you more interested in the Sony Xperia Z5, Z5 Compact or Z5 Premium?
Source: Phone Arena