Galaxy Note 5 vs S6, S6 Edge, S6 Edge+ in benchmark speed test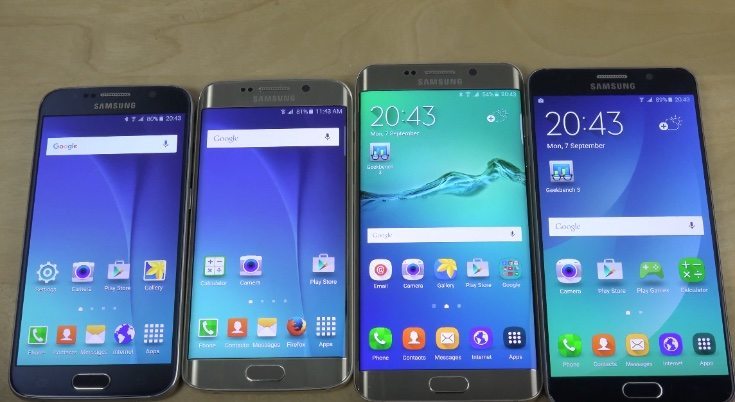 Samsung continues to be a prolific manufacturer of smartphones and it often seems that new handsets from the company are arriving all the time. At the high-end of the market are the Samsung Galaxy S and Galaxy Note lines, with two more devices recently joining the company's portfolio. Today we're sharing a video showing the Galaxy Note 5 vs. Galaxy S6, S6 Edge and S6 Edge+ in a benchmark speed test.
The Samsung Galaxy S6 flagship and Galaxy S6 Edge variant of it both released in April this year. Meanwhile the Galaxy Note 5 phablet and Galaxy S6 Edge+ are more recent and currently releasing to various world markets. These are Samsung's top smartphones and it can be interesting to see how they compare in particular aspects. Therefore we wonder which will get the best results in this benchmarking.
The short video from YouTube that you can see embedded below this post comes from Adrianisen. It shows these four Samsung phones alongside each other with the Galaxy Note 5 on the far right. The Geekbench 3 app is opened up and the reviewer shows the System Information screen for each device showing the OS versions they are running and more. The benchmark test is then conducted and single-core and multi-core scores for each phone are revealed.
It's a close-run thing and for the multi-core score the Galaxy Note 5 is ahead while for single-core it's the S6 Edge+ that takes it, but only by a very small margin. Interestingly, although the S6 Edge+ gets the best result for single-core it actually gets the lowest score for multi-core. We won't list every result here as you can see them all side-by-side when you watch the video below.
It's good to see that the performances of the Samsung Galaxy Note 5, Galaxy S6, S6 Edge and S6 Edge+ in this benchmark are pretty close overall, and we welcome your thoughts on this. Why not drop us your comments in the box below.
https://www.youtube.com/watch?v=KKHJf1yaJJ8://