Nokia 105 Dual SIM (2015) rock bottom price for India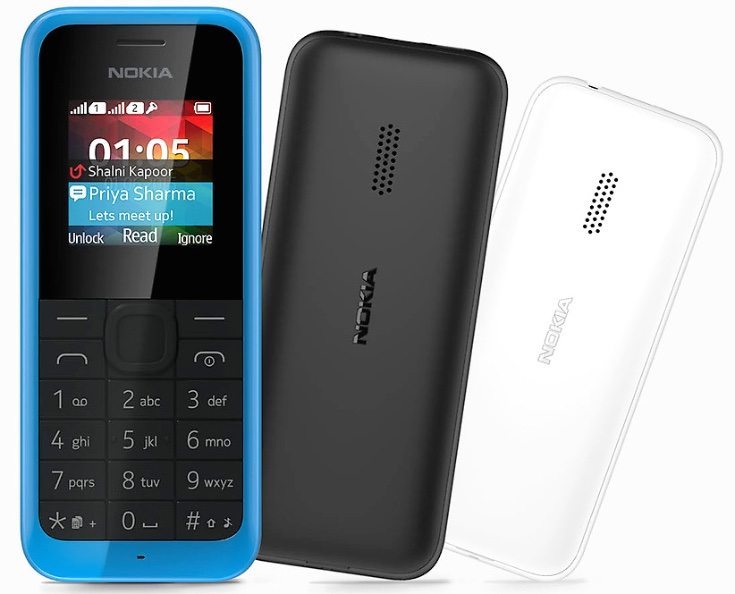 In June this year we reported on a new Nokia 105 featurephone that was announced as a successor to the 2013 Nokia 105. The new version is a step up from the original as far as specs are concerned and comes in single SIM or dual SIM variants. Now the Nokia 105 Dual SIM (2015) has launched for India with a rock bottom price.
There is still a big demand for feature phones, especially in emerging markets. Cheap pricing is a major factor in their popularity and many people buy them as a first phone or as a back-up device to a smartphone. The new Nokia 105 Dual SIM (with dual standby) has a price tag of just Rs. 1419 and it will be widely available across India.
Nokia 105 Dual SIM specifications include a 1.45-inch LCD display (128 x 128) and an 800mAh battery. It uses the Nokia Series 30+ UI, and connectivity includes micro-USB charger connector and 3.5mm AV connector. It has FM radio, an LED torchlight, and a phonebook that can hold up to 2,000 contacts. The phone also has 20% louder audio enabling clearer calls.
The Nokia 105 Dual SIM (2015) is offered in black, cyan or white colour choices. The handset measures 108.5mm x 45.5mm x 14.1mm and it weighs just 69.6g. Nokia makes a point of saying that over 80 million units of the original Nokia 105 have been sold across the world, so it's likely that there will be plenty of interest in the new Nokia 105 Dual SIM.
Microsoft Mobile Devices Director of Sales, Ravi Kunwar, said of the launch —
"Microsoft has always believed in connecting people to things that are close to their hearts. We are proud to announce the launch of the Nokia 105 Dual SIM, an essential tool for first-time mobile phone users as they start their journey into a connected world. With handsets like the new Nokia 105 Dual SIM, Microsoft brings very affordable mobile opportunities to more people. The launch of Nokia 105 Dual SIM promises to be the ideal companion for your mobile device with enhanced functionality, features and replacement guarantee providing one unifying platform and experiences."
Are you going to buy the Nokia 105 Dual SIM in India? Will you be using this as your main phone or as a backup handset? Let us know with your comments.
Source: Fone Arena