iPhone 6 iOS 9 GM vs Galaxy Note 5 Android 5.1.1 speed testing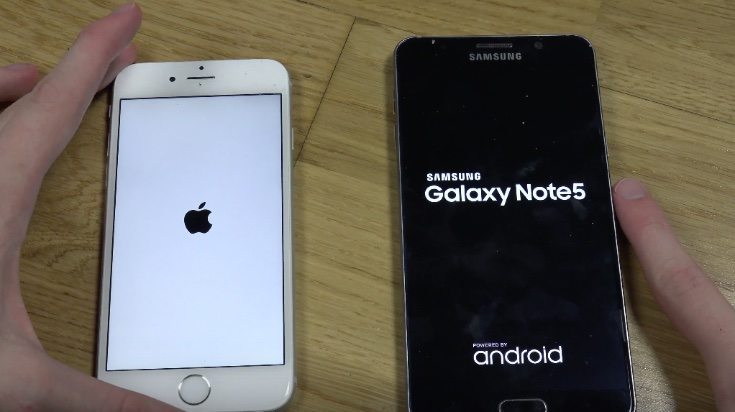 At this week's Apple event we finally heard a public release date for iOS 9. On the same day Apple seeded the iOS 9 Golden Master to developers, which is the final beta build before the release of iOS 9 to the public on September 16. It's often interesting to see how popular devices compare against each other for speed, especially when one is on a beta OS version. Therefore today we're showing iPhone 6 iOS 9 GM vs Galaxy Note 5 Android 5.1.1 informal speed testing.
The Galaxy Note 5 has only just released and is packed with top specs. These include an Exynos 7420 octa-core processor and 4GB of RAM. The iPhone 6 on the other hand is almost a year old and is powered by an Apple A8 dual-core processor with just 1GB of RAM. On the face of it this speed testing should be an easy win for Samsung's latest and greatest. However, as we frequently mention, the performance of devices doesn't merely come down to specs and we wonder if you can guess which will be the first to boot up?
The YouTube video below this article comes from Adrianisen, a regular YouTube contributor. The Galaxy Note 5 is running Android 5.1.1 while the iPhone 6 is running the iOS 9 GM edition before the release of iOS 9 to end users (see details and compatibility list here) You'll see that both phones are simultaneously powered up to see which one is up and running first. You may be surprised at the result in bootup times (just as the reviewer is) although it's a close run thing. We won't ruin the suspense here as you can see for yourselves when viewing the video below.
The reviewer then heads into Settings to show software information. Both phones are indeed running the OS versions stated and both are using the same WiFi connection. We then see some apps being opened up, and here there's a reversal in which is quickest although the differences in times are still small. Finally we get a look at multitasking on each device and some of the other differences in the software experiences.
It will be even more interesting to see this testing performed again with the final iOS 9 release, both on the current iPhone 6 and also with the new iPhone 6S that hits the shelves later this month. We're always interested in what readers think so do send us your comments about the speed results of the iPhone 6 iOS 9 GM vs Galaxy Note 5.
https://www.youtube.com/watch?v=1gB4qT3cgVI://