iPhone 5 iOS 9.1 beta 1 review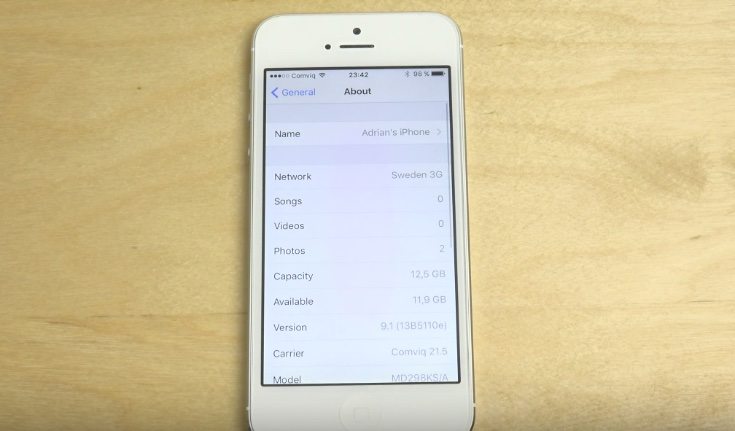 Yesterday was a big day for Apple device users as iOS 9 finally reached a public release. While many of us are just starting to get to grips with iOS 9 and its new features and improvements, Apple already seeded the first beta of iOS 9.1 to developers just over a week ago. We're sharing a video today showing an iPhone 5 iOS 9.1 beta 1 review, to give an idea of what the future update might offer.
The oldest iPhone that will support iOS 9.1 will be the iPhone 4S and we've previously shown a review of the first beta on that handset. While many people have later iPhones, we still find it interesting to see new versions of iOS running on the slightly older models that might have some limitations. This time we're concentrating on the iPhone 5.
Below this story you can see a video from one of our regular YouTube contributors Adrianisen, and it shows a 6-minute look at iOS 9.1 beta 1. It begins with showing the iPhone 5 being powered up and then the reviewer heads into Settings to show that the Phone is in fact running the first beta of iOS 9.
The App Store is then opened up and is notably slow to open, in fact so much so that the reviewer also heads to the App Store on an iPhone 5S to show the difference. We often find the App Store is slow to open on our later iOS devices, and on the iPhone 5S running more stable software (iOS 8.3) you can see that it's much quicker even though they are connected to the same WiFi.
On to something more positive, as it's noted that scrolling on the iPhone 5 feels much smoother and quicker with iOS 9.1 beta 1 as opposed to some of the betas of iOS 9. You'll also see some of the new emojis on offer (including a middle finger!), as well as some of the new wallpapers. As usual, something the reviewer (and us) really wants to see is a 'close all' button for apps.
The video offers a handy first look at iOS 9.1 on the iPhone 5, although we should remember that there may be several more betas and further changes before this update releases. After you've taken a look we'd be interested to hear your thoughts, so why not drop us a comment in the box below.
Source: YouTube
https://www.youtube.com/watch?v=jZa9CE9uJ-w://