iPhone 6 vs 6 Plus, 5S, 5 and 4S on iOS 9.1 beta, general speed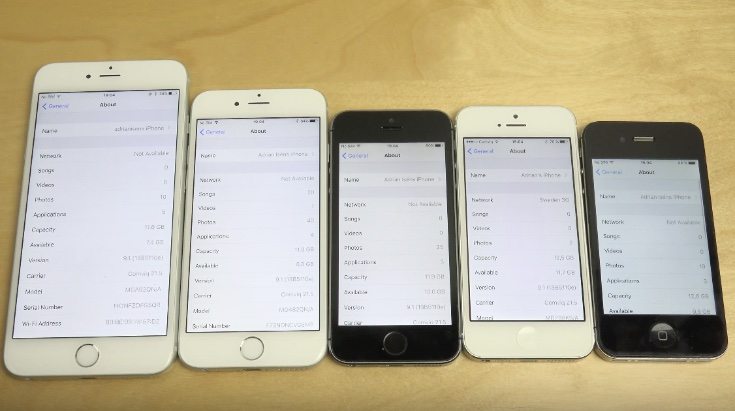 Many of us are currently familiarizing ourselves with the new features of Apple's iOS 9, but what some people don't know is that iOS 9.1 is already in beta. The first beta was seeded to developers ten days ago and there are likely to be several more betas before the final build is ready for a public release. While we're waiting we're sharing a short video showing an iPhone 6 vs. 6 Plus, 5S, 5 and 4S all on the iOS 9.1 beta in a general speed look.
It's often interesting to see how a new iOS beta version compares on different iPhones, and the above handsets will all be compatible with iOS 9.1 when it releases to the public. Of course the soon-to-release iPhone 6S and 6S Plus will also be compatible, as will the iPhone 5C. Previously we shared a review of the iOS 9.1 beta 1 running on an iPhone 5, and this new video gives us a chance to see it briefly on all of the above iPhones.
The look at speed performance of the first beta of iOS 9.1 comes from Adrianisen, and we've embedded it below this article for convenient viewing. The iPhone 6 Plus, iPhone 6, iPhone 5S, iPhone 5, and iPhone 4S are from left to right as you watch, and immediately we are shown from Settings and About that they are all running iOS 9.1 beta.
The reviewer starts with the iPhone 4S and as this is the oldest of the devices you will not be surprised that generally speeds are fairly slow. When opening and exiting apps and more we can see delays and some notable lag, although multitasking scrolling looks pretty smooth. The reviewer then runs through the same procedure on the iPhone 5, which in benchmarks can be up to three times faster than its predecessor.
This is followed by the iPhone 5S, which is noted to be way faster than the iPhone 5 in some aspects. Next we see the iOS 9.1 beta on the iPhone 6 and 6 Plus, and as you would expect there's a good performance from the newer iPhones. What will be really interesting next is to see an iPhone 6S and 6S Plus on iOS 9 beta 1 as well and see how they compare with the other iPhones.
It's likely that iOS 9.1 beta 2 will release to developers at any time, probably within the week. There's no news yet on exactly when iOS 9.1 will be available to end-users, but going by the arrival of iOS 8.1 last year, we could be looking at late October for the iOS 9.1 release. Are you already looking forward to the arrival of iOS 9.1 for your device?
Source: YouTube
https://www.youtube.com/watch?v=xwRLBaTUjS4://