Microsoft Lumia 950 and XL in new price leak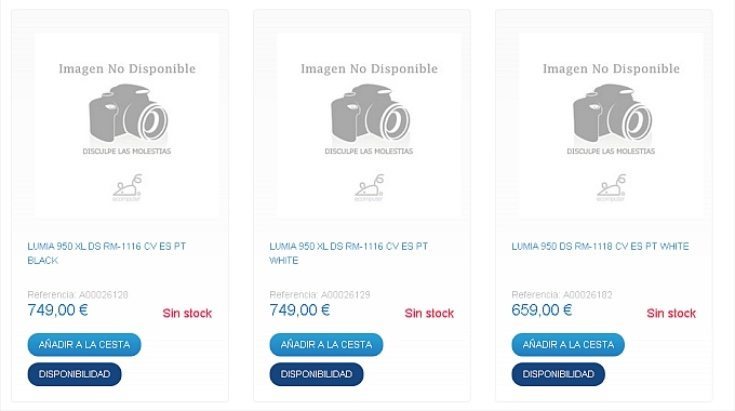 If you have been following developments for the upcoming Lumia 950 and 950 XL, you'll already know that the date to circle on your calendar is October 6th. Ahead of the event and expected launch, the Microsoft Lumia 950 and 950 XL are the subjects of a price leak, and the pricing is looking pretty steep.
Leaks and rumors about these flagship Windows 10 Mobile Lumia devices have been plentiful, and last month we heard rumored price tags of around $600 of slightly more for the Microsoft Lumia 950 and around $649 for the Lumia 950 XL. However, recently there have been reports pegging the prices rather higher, at around the same as the soon-to-release iPhone 6S and 6S Plus that start from $649 and $749 respectively.
Now there has been further news on this with a Spanish retailer sighting of the phones. The listing gives the dual SIM Microsoft Lumia 950 price as €659. That equates to around $735, £477 or Rs. 48,400 at the time of writing. Meanwhile the price of the dual SIM Microsoft Lumia 950 XL is given as €749. That's around $835, £543 or Rs. 55,000. We'll stress that this pricing is not official and that it could be case of the retailer jumping the gun or taking a guess at the prices. Even if accurate we'll point out that pricing can vary according to region, so the above equivalent prices are simply guidelines only.
Specs leaks suggest that the Microsoft Lumia 950 will have a Snapdragon 808 processor, a 5.2-inch display with QHD resolution of 2560 x 1440, 3GB of RAM, and 32GB of internal storage (expandable). It's thought to have a 20-megapixel rear camera, 5-megapixel front-facing snapper, and USB Type-C port. The larger Lumia 950 XL is tipped to pack a Snapdragon 810 processor, a 5.7-inch display with QHD resolution, and step up to a 3300 mAh battery, with other specs being largely the same as for the regular 950.
One thing for sure is that the October 6 event will soon come round and we should finally hear confirmed specs of both devices along with a release date and of course the official prices. We'll keep you informed in the run up to the Microsoft event and bring you the news as we get it. Do you have your sights set on the Microsoft Lumia 950 or the Lumia 950 XL? If the above retailer listing turns out to be right, what are your thoughts on the pricing of these Windows 10 smartphones?
Source: ecomputer.es
Via: Phone Arena