Samsung Galaxy Alpha 2 design tantalizer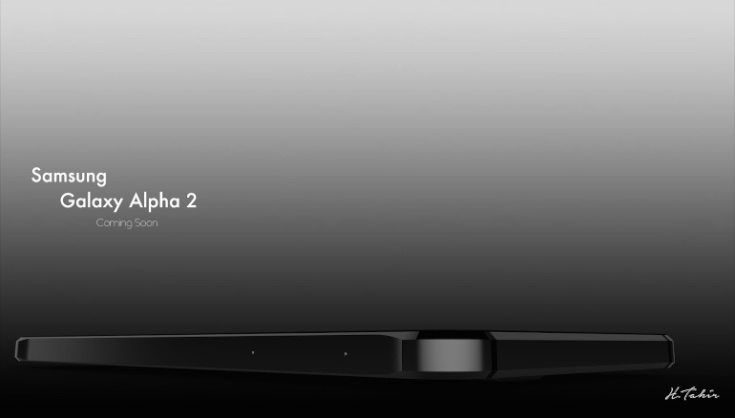 When the Samsung Galaxy Alpha released last summer it was well received. One of the reasons was its premium look, with a metal build bringing something rather more stylish to Samsung designs. Many of us would like to see a successor and today we're sharing a Samsung Galaxy Alpha 2 design tantalizer, as a taster for more to come.
We often appreciate the work of concept designers as they can fire our imagination for future possibilities. One such designer is Hass. T and some readers may be familiar with some of his previous designs such as this Nexus X or this Samsung Galaxy Pro. Now Hass. T has turned his attention to the Samsung Galaxy Alpha 2, although the image we're showing here is simply a teaser at this stage.
The designer refers to this Samsung Galaxy Alpha 2 as a "more refined version" of the Galaxy Alpha. It's not unlike the original Alpha in looks, and has build materials of metal as well as genuine leather and gorilla glass. While the original Galaxy Alpha measured 6.7mm thick, the Galaxy Alpha 2 measures just 6mm thick. Other changes with this Samsung Galaxy Alpha 2 include an improved Super AMOLED display, wireless charging, and adaptive quick charging.
It also sports the camera used in the flagship Samsung Galaxy S6, which packs a 16-megapixel rear camera with optical image stabilization and 2160p video capture. The designer says that the completed model of this concept will be available very soon and we're keen to see the finished article. You can bet we'll be back to show you the final version as soon as it's ready.
In the meantime we'd be interested to hear your thoughts on this Samsung Galaxy Alpha 2 design and the idea behind it? Do you wish that Samsung would produce a successor to the Galaxy Alpha? Do drop us your comments in the box below.
Source: Haas. T (Google+)
Via: Concept Phones