Sony Xperia Z5 Compact vs iPhone 6S bootup speed test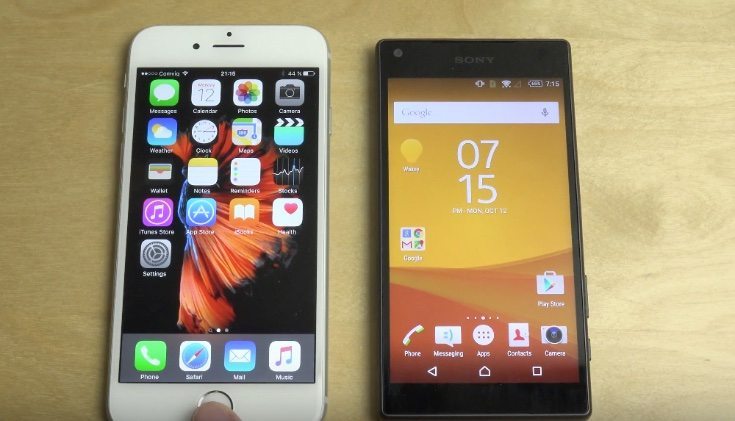 Two of the newest arrivals on the smartphone scene are the Apple iPhone 6S and Sony's Xperia Z5 Compact. These are both high-end handsets for the iOS and Android platforms respectively, and it can sometimes be interesting to see how new phones compare in particular aspects. With this in mind we're looking at the Sony Xperia Z5 Compact vs iPhone 6S in a bootup speed test.
We've previously shown a Sony Xperia Z5 Compact vs iPhone 6S comparison that focused purely on the benefits of each handset over the other in regard to specs, features and designs. This time the new video that we've embedded below comes from Adrianisen and looks solely at how some of the speeds compare.
As a refresher on key specs the Sony Xperia Z5 Compact has a Snapdragon 810 octa-core processor, Adreno 430 graphics, and 2GB of RAM. It runs Android 5.1.1 Lollipop with a planned upgrade to Android 6.0 Marshmallow, and has a 4.6-inch display with HD resolution of 1280 x 720. On the other side of the coin the iPhone 6S has a 1.84GHz Apple A9 dual-core processor, PowerVR GT7600 graphics, and 2GB of RAM. It released on iOS 9, now upgradable to 9.0.2, and has a 4.7-inch display with 1334 x 750 resolution.
The video beneath this article shows both of the handsets alongside each other and starts with the bootup test. Both phones are simultaneously powered up to see which one is up-and-running first. Usually in this kind of testing the phones are pretty close in times, but this time there's a very clear winner although we're not going to spoil your enjoyment of the video by telling you here.
The comparison then goes on to show various apps being opened up, but before this the reviewer notes that the Z5 Compact sometimes feels sluggish. A few other aspects are also covered such as the time it takes for the devices to wake from sleep, the 3D Touch display feature of the iPhone 6S, and being able to record the screen on the Z5 Compact.
If you're considering purchasing either of these handsets it's worth taking a look at the video showing some real-world testing of the Sony Xperia Z5 Compact vs iPhone 6S. Do feel free to drop us your comments in the box below.
Source: Adrianisen (YouTube)
https://www.youtube.com/watch?v=3quMjDZkc-c://