iPhone 6S vs 6 Plus, 6, 5S, 5, 4S, 4 in benchmark and bootup tests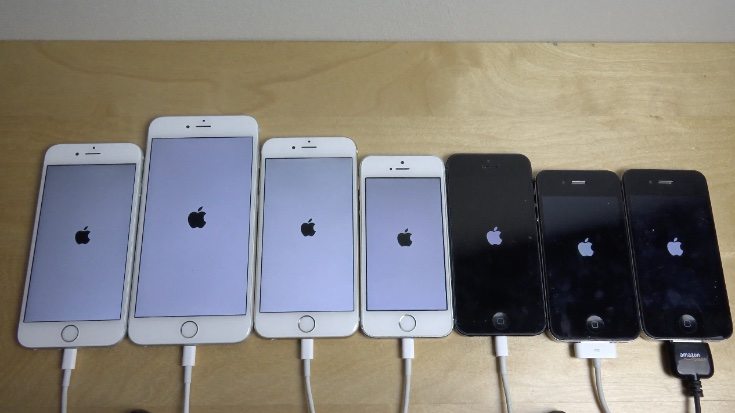 The latest Apple iOS version publicly available is iOS 9.0.2, and it can be intriguing to see how the same version compares on different iPhones in particular aspects. With this in mind we're looking at the iPhone 6S vs 6 Plus, 6, 5S, 5, 4S and 4 in a benchmark as well as a bootup speed test.
The iPhone 4 is running iOS 7.1.2, which is the latest version of iOS compatible with this older handset, while all of the later iPhones are running iOS 9.0.2. Beneath this post we've embedded two videos from Adrianisen showing testing on all of the above phones. The first is of the benchmark speed test using Geekbench 3 and shows the test being conducted.
Interestingly it's noted that the handsets involved range from 512MB of RAM to 2GB of RAM. This shows how far the lineup has come, although it's worth saying that some current Android top-end phones are releasing with 4GB of RAM. You'll be able to see the single-core scores and multi-core scores displayed on each phone, and the massive difference between the latest iPhone 6S and the iPhone 4 that released back in 2010.
We won't give away all the results here as you can see them all when you watch the video. However, as well as the big difference in scores between the latest and oldest iPhone in this lineup, there's also a notable difference between this year's iPhone 6S and last year's iPhone 6 and 6 Plus. Another thing of interest is just how long it takes the iPhone 4 to complete the test when compared with the later iPhones.
The second video below shows the bootup speed test on the same lineup of iPhones all running on the same iOS versions as for the benchmark. They are all connected to a power source so that they can be simultaneously powered up. It's unsurprising that the iPhone 6S is the first to be ready for action, although it's still interesting to see just how much longer the other handsets take in comparison.
After you've viewed the benchmark and bootup speed tests on the iPhone 6S vs 6 Plus, 6, 5S, 5, 4S and 4 we'd welcome your comments.
Source: Adrianisen (YouTube 1) (YouTube 2)
https://www.youtube.com/watch?v=9fEzberBXaA://
https://www.youtube.com/watch?v=LhvtJ1Yd67c://