Lumia 950, 950 XL get official UK price cuts before release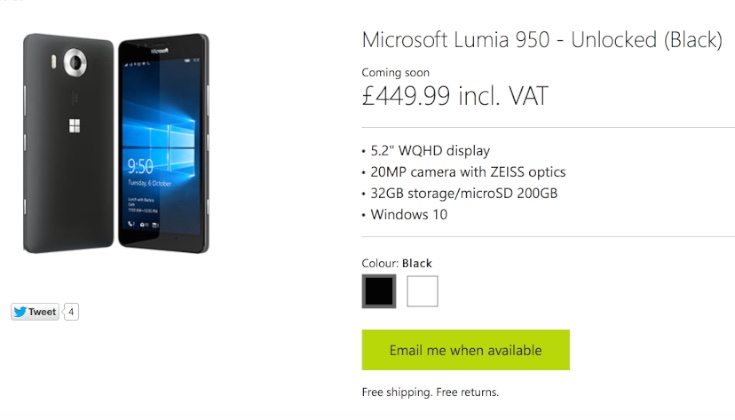 Now here's an interesting snippet for a Sunday morning. The recently announced Microsoft Lumia 950 and Lumia 950 XL are not available yet but previously Microsoft gave confirmed pricing for the two Windows 10 Mobile smartphones. However, the Lumia 950 and 950 XL have now got official UK price cuts even before they release.
There's a massive amount of interest in these two new high-end Lumia smartphones, and when Microsoft unveiled them they announced US prices. Following this Microsoft also announced UK pricing and gave the Lumia 950 a price tag of £499.99 while the Lumia 950 XL was to be priced at £549.99.
Now though, the unlocked prices on the official Microsoft Store UK have been lowered. The Lumia 950 is now listed with a price of £449.99, representing a very nice cut of £50 from the previous price that Microsoft gave. The Lumia 950 XL on the other hand now has a price of £529.99, not such a big reduction but still a handy saving of £20.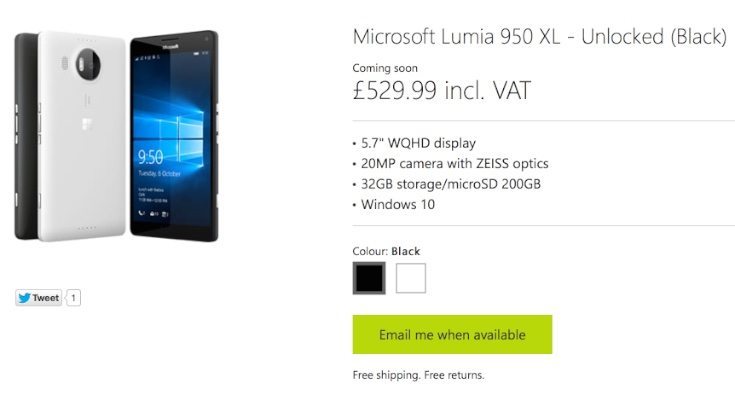 What we don't know at this stage is whether these new lower prices are permanent or whether they might change again, so you might want to keep that in mind. As both phones were announced to be releasing in November we would have hoped that pre-orders at the Microsoft Store would be available by now but that's not the case. You can sign up to be emailed when they become available though, and the listing simply says that both are 'coming soon.'
It's worth noting that the above official Microsoft prices are now lower than other prices from three UK retailers that we previously reported on. We've just checked those details out again and one of those sellers has since removed its price information on both of the phones.
Are you waiting for official pre-orders for the Lumia 950 or Lumia 950 XL to open at the Microsoft Store UK? What are your thoughts about the new lower prices now listed? Do let us know with your comments.
Source: Microsoft (Lumia 950) (Lumia 950 XL)