Samsung Galaxy A3, A7 specs leak for next-gen versions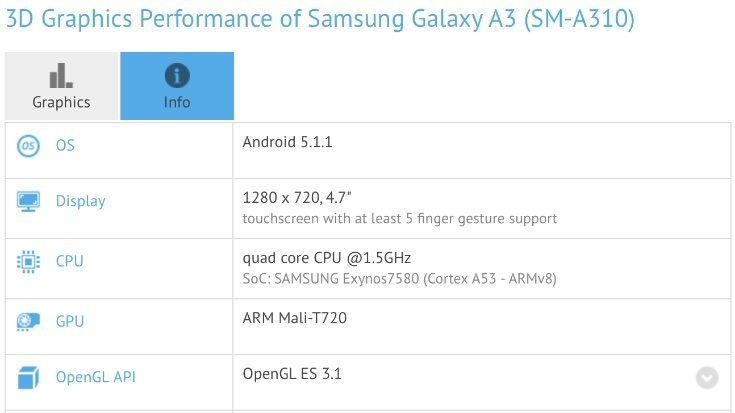 Regular Phones Review readers may remember one of our reports from last week. It appeared that the Samsung Galaxy A5 and A3 2nd gen models were in the testing phase, although not much was known about specifications at that point. Now the Galaxy A3 has turned up again, this time with the Samsung Galaxy A7 in benchmark testing. We have details of this Samsung Galaxy A3 and A7 specs leak for the next-gen versions.
While we've known for a while that successors to the Galaxy A7, A5 and A3 were in development, until now we hadn't heard much on the specs. There's no news yet for the Galaxy A5 in this respect, but a benchmark database has now disclosed specs for the Galaxy A3 and Galaxy A7 2nd gen models with numbers SM-A310 and SM-A710X respectively.
The GFXBench database shows the new Samsung Galaxy A3 as having a 1.5GHz Exynos 7580 quad-core processor. This is a little confusing as the named chipset is octa-core although this could be a quad-core variant. Other specs are Mali-T720 graphics, a 4.7-inch display with HD resolution of 1280 x 720, 1.5GB of RAM, and 16GB of internal storage. There's also a 13-megapixel rear camera while the front-facing snapper is 5-megapixels.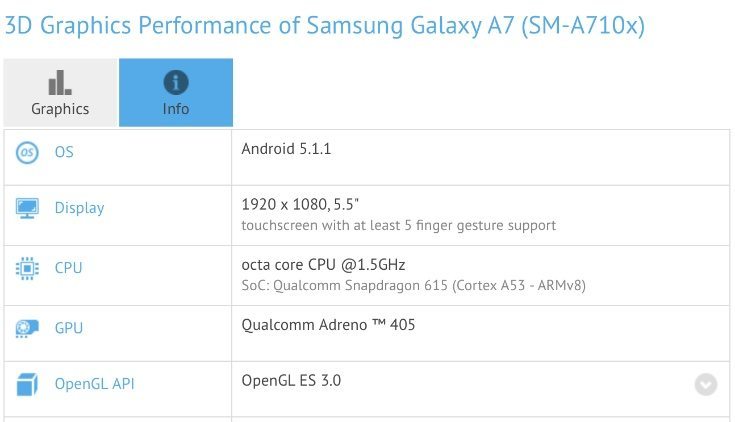 For the new Samsung Galaxy A7 the specs are a 1.5GHz Snapdragon 615 octa-core processor, Adreno 405 graphics, a 5.5-inch display with Full HD resolution of 1920 x 1080, and 3GB of RAM. Other specs are identical to those of the next-gen Galaxy A3. These specs signify some upgrades over the original versions of these phones, and both are running the Android 5.1.1 operating system.
It's worth pointing out that although these smartphones are named as the Samsung Galaxy A3 and Galaxy A7 in the listings, the titles are likely to be changed by the time they launch, or at least added to so that it's clear they are new versions. There's no news yet on when these phones may release but the growing amount of leaks suggests a launch may not be too far away.
Are you a potential buyer for the next-generation Samsung Galaxy A3 or Galaxy A7? Which one of these devices are you most interested in? Do let us know using the comments box provided below.
Source: GFXBench (1) (2)
Via: SamMobile