iPhone 6S vs Nexus 5X speed performance testing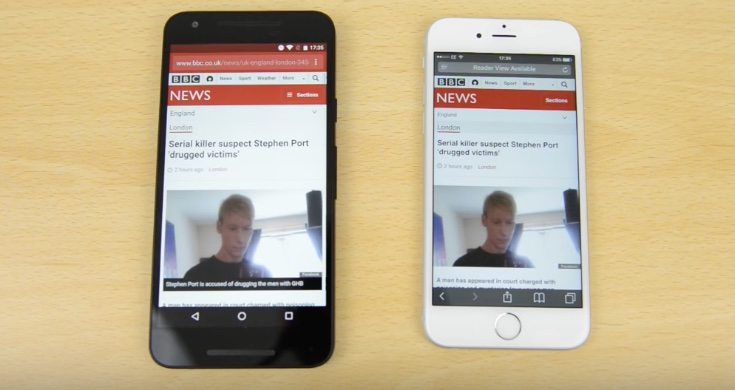 There's a lot of anticipation every year for new Nexus devices on the Android platform and new iPhones on the iOS platform. This year the LG Nexus 5X recently arrived and one of the phones it will be up against is the Apple iPhone 6S. With this in mind we're looking at iPhone 6S vs Nexus 5X speed performance testing to see how they compare in this respect.
We've already shared a camera comparison of these two smartphones, and now it's time to turn out attention to just how speedy they are. Key specs of the iPhone 6S regarding performance are a 1.84GHz Apple A9 dual-core processor, PowerVR GT7600 graphics, and 2GB of RAM. It released on iOS 9.0, now upgradable to iOS 9.1.
On the other hand the LG-made Google Nexus 5X is equipped with a Snapdragon 808 hexa-core processor (two cores at 1.82GHz and four at 1.44GHz), has Adreno 418 graphics, and 2GB of RAM. It released running the latest version of Google's mobile operating system, Android 6.0 Marshmallow.
Below this article we've embedded an iPhone 6S vs Nexus 5X comparison from SuperSaf TV that focuses on speed testing. It starts by showing Geekbench 3 benchmark results and the iPhone 6S beats the Nexus 5X for both single-core scores and multi-core scores. It then shows the quickest way to launch the camera app on the phones, and this time around it's the Nexus device that wins.
After this the video moves on to the browser, apps, and gaming speed testing, with the reviewer noting that all apps in the background have been closed down first for a fair result. You'll see various apps being opened up and there's a mixed bag of results. Some of the apps are left running in the background and then some games are loaded with one handset being faster than the other. We won't tell you which is fastest, as we don't want to spoil all the suspense for when you watch the video.
Next the reviewer starts re-opening some of the apps that were opened earlier, always an interesting aspect to observe. To be fair both phones show good speed performance, and for the majority of the time the differences in speeds are slim. Ultimately they both appear to be quicker for different things, and you can see the reviewer's conclusion on this when you check out the comparison below.
After you've taken a look at this iPhone 6S vs Nexus 5X speed performance testing it would be good to receive your comments. What are your thoughts on how these two smartphones compared in this regard?
Source: SuperSaf TV (YouTube)
https://www.youtube.com/watch?v=4oziH6DDrj0://