Moto X Pure / Style battery life tested, disappointing results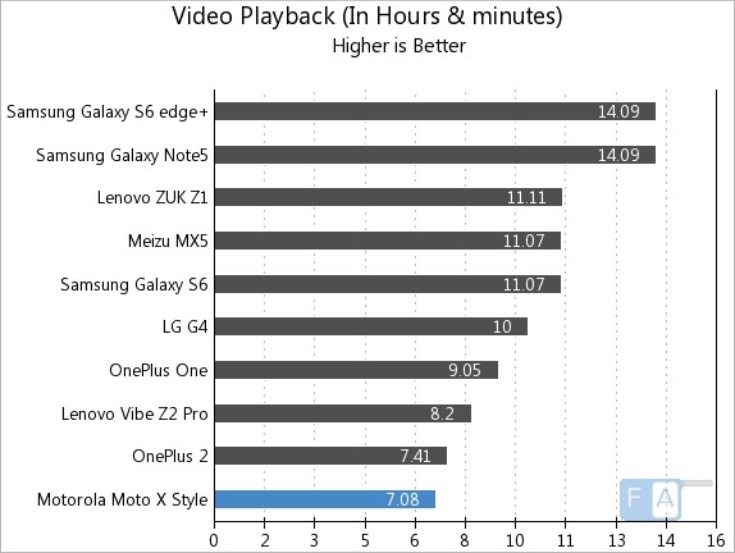 Anticipation was building nicely for the new Moto X 2015 and in September Motorola announced the Moto X Pure Edition for the US, titled as the Moto X Style for other markets. If you haven't decided whether to buy this new smartphone yet and are a heavy user of your device, you might be interested in this post. We have details of some Moto X Pure / Style battery life testing and the results compared with some other handsets. After a promising start the rest of the results might disappoint you.
The Moto X Pure aka Style is likely to be another success for Motorola, going by the popularity of previous Moto X phones. It has top-notch specs that include an octa-core processor and Quad HD resolution display, and it's juiced by a 3000 mAh battery. Battery life is an important factor for many of us when purchasing a new mobile device, and Fone Arena has conducted its usual gamut of testing on the phone.
The testing is split into four main categories, Talk Time, 3G Browsing, WiFi Browsing, and Video Playback. You can find full details on the battery test procedures used at the source below. The results for each category have then been placed on tables that also show the results achieved by numerous other smartphones. Just a few of the other devices it's compared with are the Samsung Galaxy Note 5, LG G4, Meizu MX5, OnePlus 2, and Samsung Galaxy S6.
For Talk Time the Moto X Pure /Style achieved a time of 33 hours and 19 minutes, exactly the same as for the Lenovo Vibe Z2 Pro and Lenovo ZUK Z1. This put it in equal top position on the chart above the One Plus 2 with a time of 28 hours and 57 minutes. By comparison the Meizu MX5 was in bottom spot with only 16 hours and 40 minutes (see image directly below).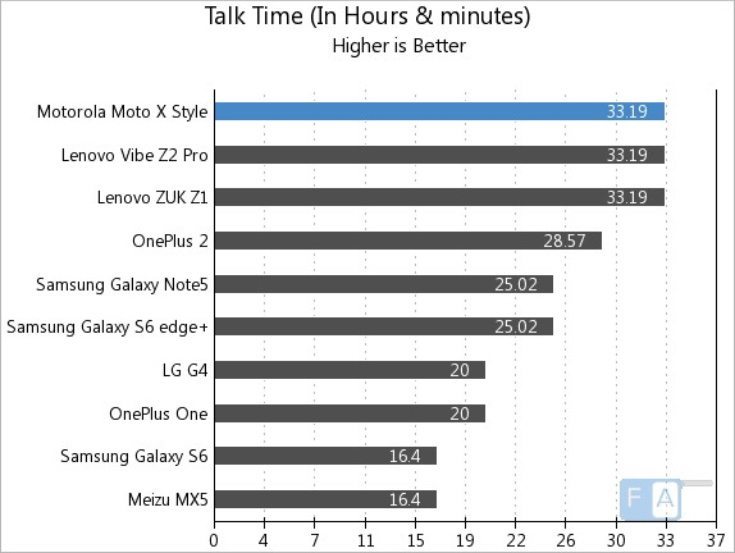 Moving on to 3G Browsing this was a completely different story. This time around the Moto X Pure /Style was in last position with a time of just 3 hours and 34 minutes. The Samsung Galaxy Note 5 was the winner for this category with a time of 7 hours and 41 minutes, while the Lenovo ZUK Z1 took second place on 6 hours and 39 minutes.
The Moto X Pure/Style did not do any better for the WiFi Browsing category either. Again it was in the bottom spot, this time on 4 hours and 20 minutes. The Galaxy Note 5 was top once more, with a time of exactly 10 hours. The Lenovo ZUK Z1 was second with 8 hours and 19 minutes while the Lenovo Vibe Z2 Pro was third on 7 hours and 8 minutes.
Finally we get to the Video Playback category and sadly once again the Moto X Pure /Style is in bottom place on the table, as shown in the image below. It managed a time of only 7 hours and 8 minutes. The Samsung Galaxy S6 Edge+ and Galaxy Note 5 came in joint first on 14 hours and 9 minutes, almost double the time managed by the Motorola handset.
Yesterday we gave some details on benchmark test results for the Moto X Pure /Style that were not too impressive. We have to say that we're also surprised (not in a good way) at these battery life test results and how it compares with other handsets in this respect. It's odd that the phone performs so well on battery life for Talk Time but so poorly in the other categories. For full test results, the other tables, and a One Charge Rating please check out the source below.
What are your thoughts on the results of this battery life testing for the Moto X Pure/Style? Are you too, a bit disappointed at how the phone fared in this area?
Source: Fone Arena