Nexus 6P vs Galaxy Note 5 speed testing winner is…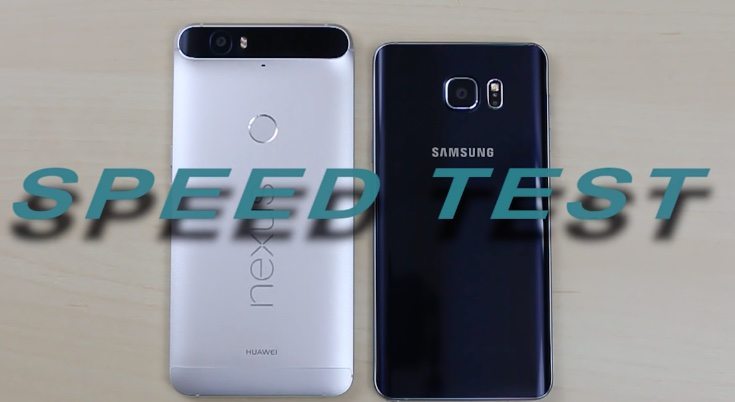 The Huawei Nexus 6P is the larger of the two new Google Nexus smartphones that were announced in September. It has the same display size as the Samsung Galaxy Note 5, and as high-end phablets these are natural competition for each other. Today we're showing a Nexus 6P vs Galaxy Note 5 speed testing comparison that will give you an idea of their performances in this respect.
Previously we're shared a concise comparison of these two handsets that purely focused on the stronger points of each over the other. Potential buyers of a new device will be investing a lot of money in either of these smartphones, so speed performance could be a factor in making a decision between them.
In this regard the key specs of the Nexus 6P are a Snapdragon 810 octa-core processor (four cores at 2GHz and four at 1.55GHz), Adreno 430 graphics, and 3GB of RAM. It has a 5.7-inch AMOLED display with Quad HD resolution of 2560 x 1440, and it runs the latest version of Android, 6.0 Marshmallow.
On the other foot the Galaxy Note 5 is powered by an Exynos 7420 octa-core processor (four cores at 2.1GHz and four at 1.5GHz), has Mali-T760MP8 graphics, and 4GB of RAM. It has a 5.7-inch Super AMOLED display, also with Quad HD resolution, and it runs the Android 5.1.1 Lollipop operating system that will be upgraded to Android Marshmallow at some point.
The Nexus 6P vs Galaxy Note 5 speed test video that we've embedded beneath this article comes from L BS. We particularly enjoy these speed tests as they delve into all kinds of performance. You'll see a temperature test measuring the heat output from both phones before the speed testing begins. The comparison goes on to cover aspects of speed performance such as an Ookla speed test and benchmark tests with the two phones shown alongside each other so you can see how speeds compare.
Other speed testing involves gaming, browsing, app opening (YouTube and Facebook), and more. As the testing progresses you'll see a counter racking up the points for each handset after a win. The comprehensive testing lasts for almost 10 minutes and at the resolution of the tests the handsets are measured for heat output again. Following this there's one more test that shows bootup speeds.
We're not going to ruin your enjoyment of watching the video with a spoiler of the results, but we will say that one of these devices is a long way in front by the end. When you've viewed the speed comparison we'd be really interested to hear your comments. Did you pick the right winner in this Nexus 6P vs Galaxy Note 5 speed testing?
Source: L BS (YouTube)
https://www.youtube.com/watch?v=1yiCmvgdjWw://