Meizu Pro 5 Mini specs and pricing leak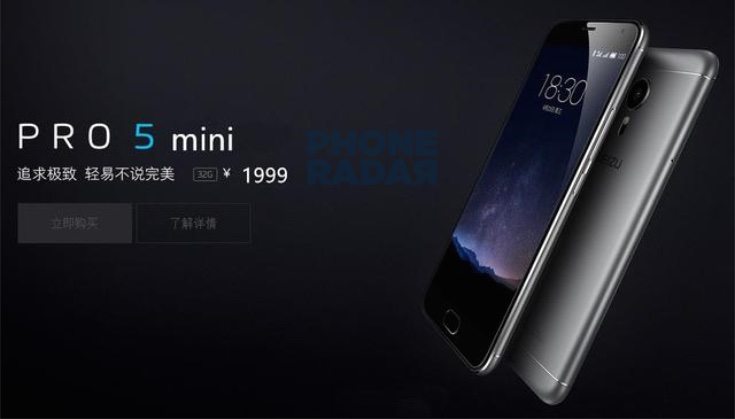 There are likely to be many readers out there who have heard of the Meizu Pro 5. It was announced in September and combines some very impressive specs and a competitive price. Now there are murmurings of a mini version of the phone on the way, and we have some details on Meizu Pro 5 Mini specs as well as possible pricing before its even official.
The Meizu Pro 5 packs an Exynos 7420 octa-core processor and a 5.7-inch Full HD display. The leaked specs of the Meizu Pro 5 Mini include a MediaTek Helio X20 deca-core processor, so it's good to see a mini version of a phone keeping up the pace. Other specs of the Pro 5 Mini are said to include a 4.7-inch IPS LCD display with Full HD resolution, and internal storage models of 32GB or 64GB.
The Meizu Pro 5 Mini is also tipped to have a metal build, but there's no word yet on the camera specs, RAM, or battery size. The existing Pro 5 32GB model has 3GB of RAM while the 64B variant has 4GB of RAM, although that doesn't mean that the mini variety may have more than one RAM option.
The same source has come up with prices for the phone. However, we'll stress these are not official. The Meizu Pro 5 Mini 32GB variant is claimed to have a price of CNY 1,999 (equivalent to around $315, £205, or Rs. 20,700). If you're more interested in the 64GB Meizu Pro 5 Mini, that one is said to sport a price tag of CNY 2,499 (equivalent to around $395, £255, or Rs. 25,800).
So far there's no information on when the Pro 5 Mini will release or where it will be available, but it's thought that it will launch before the year is out. We'll bring more on that as we hear it. Do you like the sound of the unconfirmed Meizu Pro 5 Mini specs and price so far? Let us have your comments.
Source: Phone Radar