Samsung Galaxy devices roadmap leaks for Marshmallow update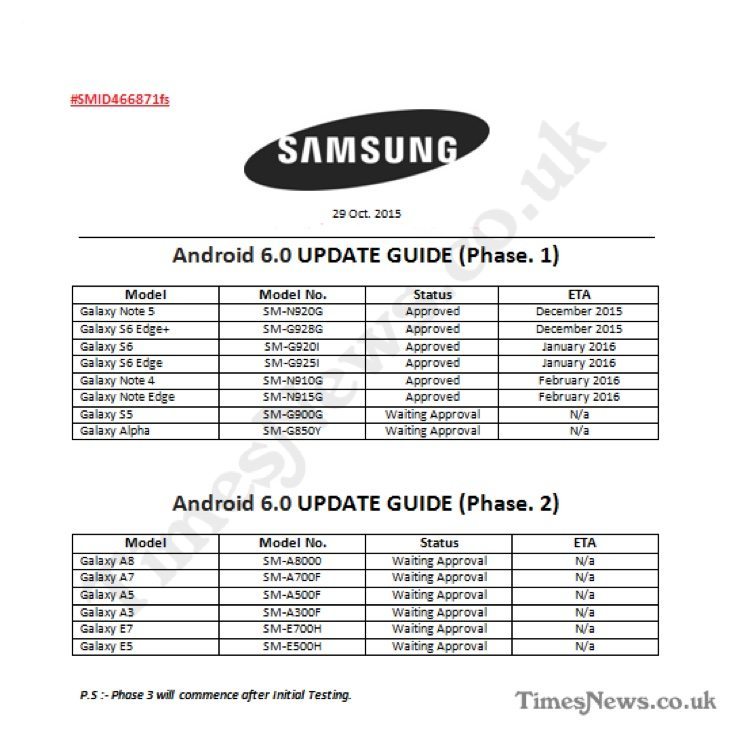 We always try to keep readers in the know about OS updates for their smartphones and tablets, and at the moment everyone wants to know when their device will get the update to Android 6.0 Marshmallow. Now we have some news about a Samsung Galaxy devices roadmap that has leaked for the Marshmallow update. This gives approximate times for when we can expect various rollouts.
Back in August we reported on some of the Samsung Galaxy devices tipped to receive the upgrade to Android Marshmallow at some point. At that point there was no news on when the update would start to roll out for the various devices, and Samsung still hasn't officially clarified this.
Now the leaked roadmap gives details of the update schedule, so far with information for two phases. In Phase 1 the first Samsung Galaxy devices to be approved for Android Marshmallow are the Samsung Galaxy Note 5 (SM-N920G) and Galaxy S6 Edge+ (SM-928G). The rollout of the update will begin for these two handsets in December 2015. These will be followed by the Galaxy S6 (SM-G920I) and Galaxy S6 Edge (SM-G925I), both in January 2016.
Next on the list are the Galaxy Note 4 (SM-910G) and Galaxy Note Edge (SM-915G) with the update scheduled for February 2016. The Galaxy S5 (SM-G900G) and Galaxy Alpha (SM-G850Y) are also included in the first phase. However there's no timeframe listed for these two yet, as the update status reads 'waiting approval.'
Moving on to Phase 2, the following devices are all awaiting approval for the update, so no estimated time is given yet. The phones in this phase are the Galaxy A8 (SM-A8000), Galaxy A7 (SM-A700F), Galaxy A5 (SM-A500F), Galaxy A3 (SM-A300F), Galaxy E7 (SM-E700H), and Galaxy E5 (SM-E500H).
Samsung Galaxy devices not included in the list for the first or second phase may be part of the third phase for the Marshmallow update. A note on the roadmap says that Phase 3 will start after initial testing. It's always good to see information come out about timeframes for new updates, although we wish that Samsung had provided this information for its customers.
While we wait for the Android Marshmallow update to begin being pushed out for the about Samsung Galaxy devices, we'd like to hear from you. Does your Samsung Galaxy phone appear in the above roadmap information? Do you wish that Samsung would be more transparent with update details? Let us have your comments.
Source: Times News