Samsung Galaxy A7 2nd gen release closing in with Bluetooth spot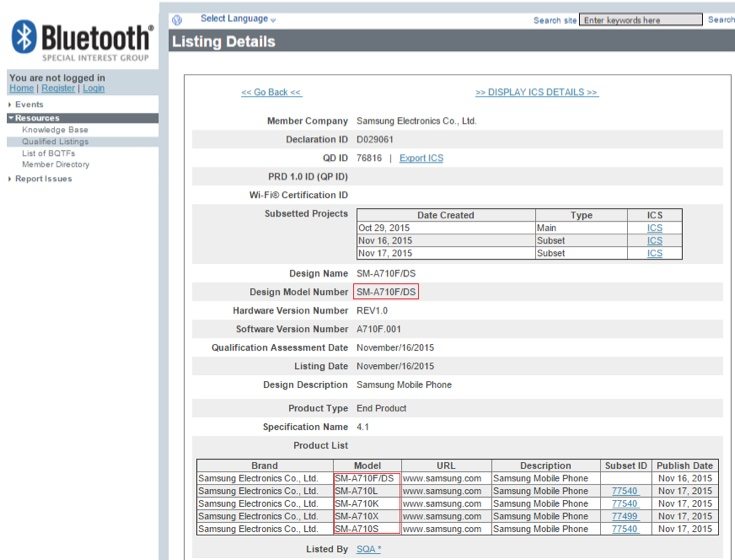 There have been increased murmurings about the next-generation Samsung Galaxy A7 recently. The original version released in February this year, and there will be plenty of people interested in the successor to this popular smartphone. Now the Samsung Galaxy A7 2nd gen release is closing in following a Bluetooth spot that has also revealed several models.
Previously we reported on a specs leak for the new Galaxy A7 and Galaxy A3, and recently some leaked images also surfaced. Certification processes are very often one of the final stages we see before new devices are officially launched, and now the Samsung Galaxy A7 2nd gen has turned up at the Bluetooth SIG for certification.
The filing for the Samsung Galaxy A7 2nd gen shows model number SM-A710F/DS, and the certification also discloses four further variants. As shown in the image below they are the SM-A710L, SM-A710K, SM-A710X, and SM-A710S, and the different models are likely to cater for different markets.
The previous leaked images showed the Samsung Galaxy A7 2nd gen to be very similar in design to the flagship Galaxy S6, with a glass and metal build. However, the leaked specs indicate a more mid-range smartphone, just as we would expect considering the existing A7. Unofficial specifications for the next Galaxy S7 so far include a 1.5GHz Snapdragon 615 octa-core processor, Adreno 405 graphics, and a a 5.5-inch display with Full HD resolution of 1920 x 1080.
Further unconfirmed specs are 3GB of RAM, 16GB of internal storage, a 13-megapixel rear camera, and 5-megapixel front-facing shooter. Many of these specs (apart from RAM) are the same as for the original Galaxy A7, but there's no news yet on battery size. However, it has been rumored that Samsung intends to bring more premium features to its low and mid-range handsets. These features are thought to include fingerprint sensors and Samsung Pay, though at this stage it's anyone's guess whether this will apply to the 2nd gen Galaxy A7.
Ultimately considering the amount of leaks and now certification appearances, it's a pretty safe bet that the Samsung Galaxy A7 2nd gen will soon be formally unveiled. We'll bring further news as it happens, and in the meantime we'd like to hear your thoughts. Drop us a comment to let us know if you're keen to see the official launch of the Samsung Galaxy A7 2nd gen? What improvements are you hoping for over the original A7?
Source: Bluetooth SIG
Via: Phone Arena