Motorola Droid Turbo 2 Android Marshmallow arrives for some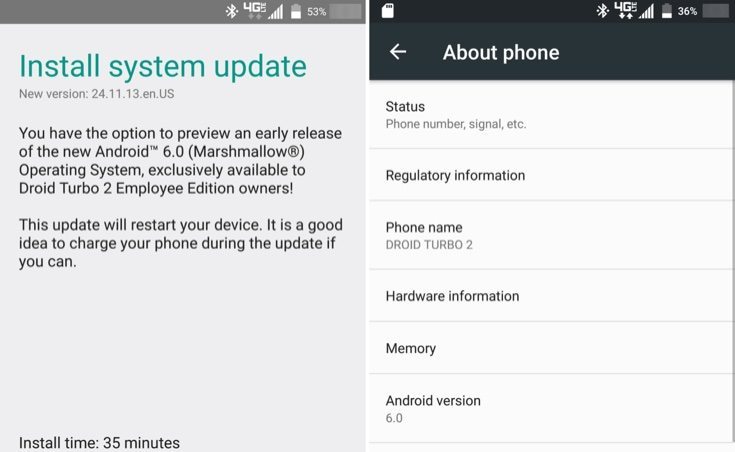 The Motorola Droid Turbo 2 for Verizon released in October running Android 5.1.1 Lollipop, and many owners of the device will be wondering when it will be updated to Android 6.0 Marshmallow. There's some good news on this today as Motorola Droid Turbo 2 Android Marshmallow is arriving for some users of the phone, although not all of them just yet.
Some readers may be unaware that this phone was also available in limited numbers as the Motorola Droid Turbo 2 Employee Edition. This was a red version of the phone that as its name suggests was made available purely for Verizon employees. It's this variant that the Android 6.0 Marshmallow update is now rolling out to, and its arrival is a sure sign that the update should follow to the standard Droid Turbo 2 before too much longer.
The notification that was sent out to the device about the update invites users to preview an early release of the 6.0 Marshmallow operating system. The notification also points out that at the moment this is exclusively for the Employee Edition of the phone, as shown in the screenshot image below.
This upgrade brings the software to version 24.11.13 and offers the many joys of Marshmallow, with just few of the features and improvements including Doze and refreshed app permissions. It follows news last week of the Marshmallow update arriving for the Moto X Pure Edition on Verizon, Sprint, and US Cellular.
There are likely to be some owners of the consumer Motorola Droid Turbo 2 who wish the update was arriving for their version right now. As we mentioned before though, this is a promising sign that the Android Marshmallow update for all users of the smartphone will be here soon. Of course we'll let you know as soon as we hear more, and in the meantime we'd like to hear from readers who have the Droid Turbo 2.
Are you pleased to know that the Motorola Droid Turbo 2 Android Marshmallow update has arrived, at least for the Employee Edition? Maybe you're itching for this update for your standard version of the phone?
Source: Droid-Life