LeTV Max4-70 gets listed with a massive 6.9-inch display and 4GB of RAM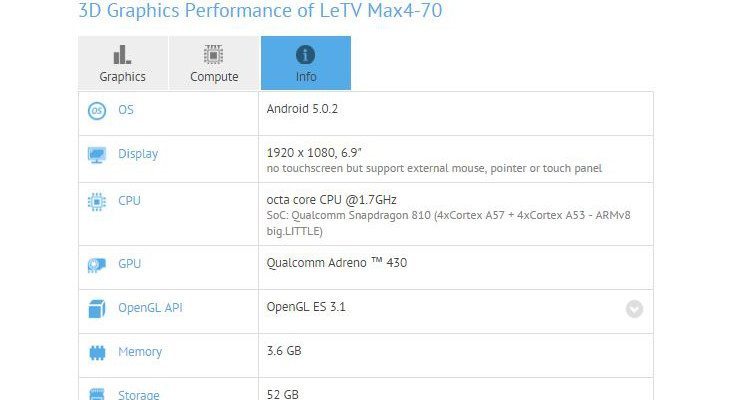 A couple of days ago we told you about a beastly upcoming handset from the folks at LeTV. Well, it looks like there is another on the way, and the LeTV Max4-70 is set to be absolutely massive with respectable specifications.
The LeTV Max Pro is gearing up to be one of the beefiest handsets around when it arrives if the leaks and benchmarks all pan out. It's sibling, the LeTV Max4-70 is a different type of  beast as it won't sport that Snapdragon 820 we've been hearing so much about and there's nary a QHD pixel in sight. Instead you'll get a phone that's more of a tablet thanks to a ginormous front panel.
Remember when we used to joke about smartphones with 6-inch displays? Well, the joke is on us with the LeTV Max4-70 as it will have a 6.9-inch display with a resolution of 1,920 x 1,080. The processor pushing those pixels is listed as the Snapdragon 810, which is a little underwhelming, but it will be backed by 4GB of RAM. The storage capacity is listed at 64GB, and that's all we know aside from Bluetooth, Wi-Fi, and a couple of cameras with an unknown resolution.
It's safe to say the LeTV Max4-70 is not going to be a smartphone for everyone. We can't imagine trying to cram the thing into a jean pocket, as it's essentially a slate with voice-calling capabilities. That said, it will be interesting to see the design behind the huge smartphone and just how much it will cost when it hits the streets.
Do you think 6.9-inches is overkill on something billed as a smartphone?
via – Timesnews.co.uk         source: GFXBench