New Lumia 850 design is pure concept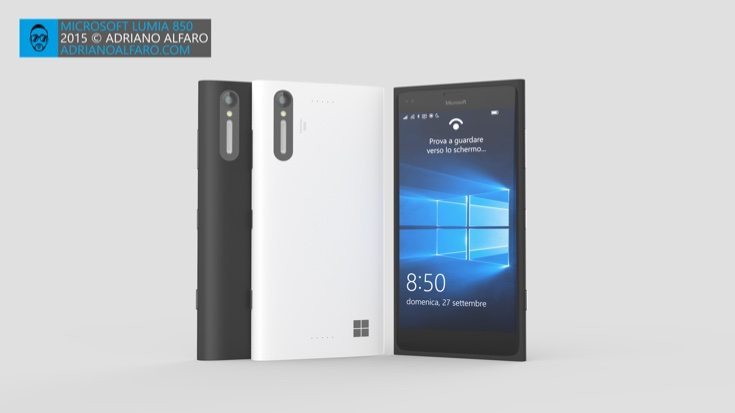 Until very recently it was thought that the Microsoft Lumia 850 had been cancelled. However, over the last few weeks there has been leak after leak, which has led us to believe that it might still be on the cards and heading to a launch. We've shown several leaked images recently, and now we have a new Lumia 850 design to show you that is a pure concept.
Since the beginning of December we've reported on numerous new leaks about the Microsoft Lumia 850. There have been several rounds of images that have actually all matched with each other. A few days ago we showed a picture that illustrated the different color options, and then we saw the phone depicted in some 3D renders.
Even though we now think we know what the device looks like, that doesn't stop concept designers coming up with their own ideas. The Microsoft Lumia 850 that we're showing today is by designer Adriano Alfaro who has imagined something completely different for the styling of this phone. It's envisaged as something rather more high-end than the rumored 850, and echoes the Fabula Design background.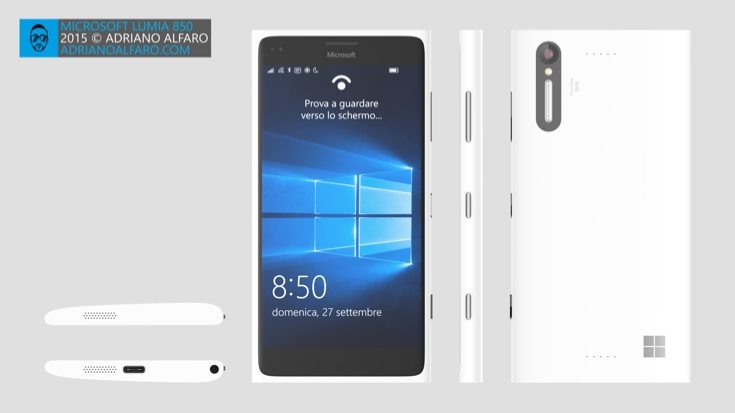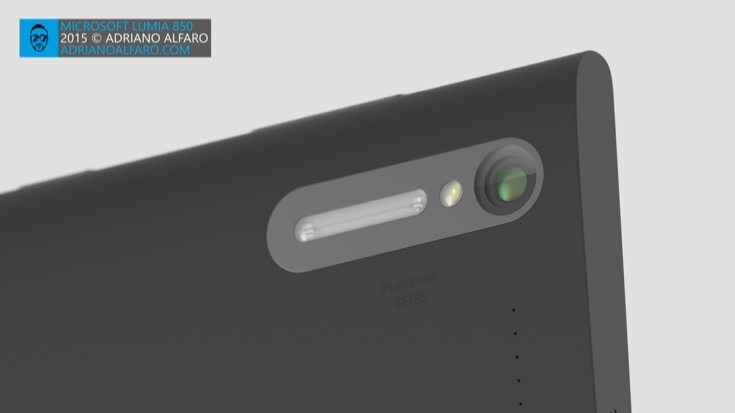 The handset has rounded edges and is thicker on the right side and slimmer to the left. The difference is subtle and the camera area is positioned without any protrusion on the thickest side below a ceramic strip. The designer is said to imagine this Lumia 850 concept as a "bigger brother" to a Lumia 880 that he created back in 2013.
Alfaro has also imagined some specs for this Lumia 850 design concept. They include a 2.2GHz Snapdragon 820 quad-core processor, 5-inch display with Full HD resolution, 3GB of RAM, and 32GB of internal storage (expandable via microSD). There's also a 20-megapixel rear Pureview camera featuring Xenon and LED flash, optical image stabilisation, and 4K video capture, as well as a 5-megapixel front-facing unit, and a 3000 mAh battery.
The device would of course be running Windows 10 Mobile with Continuum, SensorCore, and Windows Hello, and it has a USB Type-C port along the bottom edge of the device. The handset measures 129.4mm x 70.7mm x 9mm. We've shared a few of the images of this Lumia 850 design here. You can get a further look at the device from all angles in the video that you'll get to if you scroll down this page.
We feel this is a pretty stunning Microsoft Lumia 850 design, and we'd like to know if you agree? Would you like to have seen this for the real deal if and when it finally releases? Drop us your comments in the box provided.
Source: Adriano Alfaro (YouTube)
Via: Concept Phones
https://www.youtube.com/watch?v=I3NguEMWG3A://