Nexus 4 Android Marshmallow via CyanogenMod 13 nightly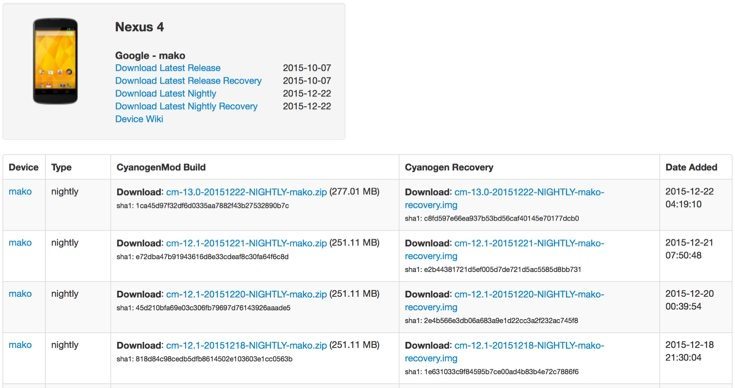 The LG-made Google Nexus 4 may have released back in 2012 but there are still plenty of people rocking this smartphone. Sadly its age means that while later Nexus devices are now being treated to the Android 6.0 Marshmallow update, the Nexus 4 has been left out in the cold. However, there is a way to get your Nexus 4 Android Marshmallow via CyanogenMod 13.
It's always good to be able to try out the latest operating system versions on older devices, even if they are not official updates. Just two days ago we told how the Samsung Galaxy S3 (also a 2012 release) could now get a taste of 6.0 Marshmallow thanks to a CyanogenMod 13 nightly build. Now the custom ROM community offers the Nexus 4 Android Marshmallow.
It's worth saying that there have already been a few Marshmallow ROMS for the Nexus 4 (aka Mako), but many will be pleased to hear the latest CM 13 nightly now brings Marshmallow to the phone. It released in the early hours of today and offers the delights of Android Marshmallow along with some extra CyanogenMod tweaks. The download size is 277MB.
At Phones Review we can never recommend the use of custom ROMs and we cannot be held responsible if you try it and something goes wrong. Nevertheless we know that many readers are fans of this aspect of owning an Android device. We'll also point out that it's probably not a good idea to give it a whirl if you still use the Nexus 4 as your daily driver. Being the first nightly build means you're more than likely to encounter some glitches and bugs, so it might be worth waiting for when it should be more stable.
Nevertheless if you want to try it out you can find the download files at the source below and also a GApps zip package. Will you be checking out Nexus 4 Android Marshmallow with the CyanogenMod 13 nightly? If so, why not let us know how you get on by dropping us a comment.
Sources: CyanogenMod AND GApps
Via: Android Police