Lumia phones Windows 10 update clearer with Microsoft Upgrade app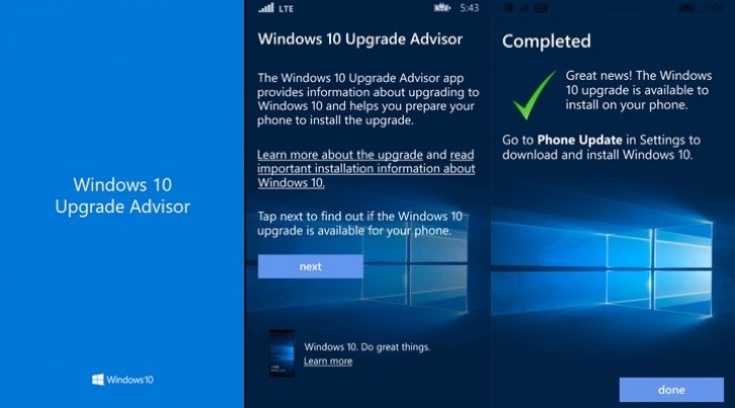 While Microsoft has now released a few Lumia phones running Windows 10 Mobile out of the box, there are many people who just want to know when this upgrade will come to their existing Lumia devices. This has been a confusing picture so far, but hopefully the Lumia phones Windows 10 update will soon be much clearer with the help of a Microsoft app.
Microsoft originally announced that the Windows 10 Mobile update would arrive for some Lumia phones in December, but after several red herrings we heard that the rollout had been delayed and would start arriving in early 2016 instead. We've seen various lists of devices that should be receiving the upgrade. However, none of these seem to totally match up, so many device owners have been left wondering if their Lumia phones would get Windows 10 or not.
Just a few days ago it was reported that the Windows 10 update had finally started rolling out to older devices, and that the Microsoft Lumia 640 was the first legacy Lumia that was receiving it, beginning in Poland. Since then we've also seen news of its arrival for some owners of the Lumia 535 in Latin America. While reports are patchy so far, this is promising news for owners of these devices. This is because once updates arrive in one region they usually start appearing in further markets before too much longer.
Now it appears that Microsoft has taken heed of the fact that many Lumia handset owners want more certainty about if their devices will receive the Windows 10 Mobile update. The giant company has come up with the idea of a Windows 10 Mobile Upgrade Advisor app that should finally clarify this issue. One of the aims of this app is providing information about whether your Windows Phone 8.1 device will be upgraded to Windows 10 Mobile.
On opening the Upgrade Advisor app it will inform you if your phone is eligible or not for the upgrade. It eligible, the app will also advise you if your phone needs updating first. The app can also help you prepare for the upgrade and free up the necessary space on your handset by recommending content that can be temporarily removed to an SD Card or OneDrive. App users can choose to accept the recommendations or change the files to be moved.
The Upgrade Advisor app can be found in the Microsoft Store, although it's currently in beta form so may not be available to everyone just yet. However, reports suggest it will be widely available soon. We hope this is accurate, as the app would certainly help to resolve the uncertainty over the Windows 10 update for legacy Lumia phones.
Are you itching for the Windows 10 Mobile update to arrive for your Microsoft Lumia smartphone? What are your thoughts on the Upgrade Advisor app that's in development?
Via: GSMArena