Microsoft Lumia 650 price tip from retail listing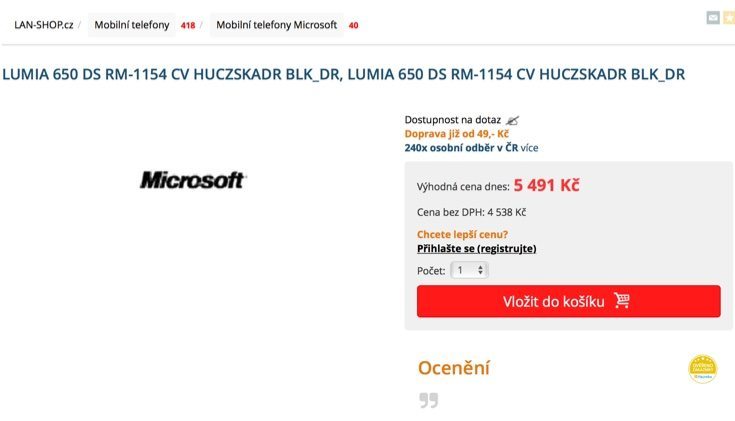 Microsoft has already released several new smartphones running the Windows 10 Mobile OS, and for a while there have been leaks of a Lumia 650 in the pipeline. There have already been specs sightings, and now the Microsoft Lumia 650 price has been tipped for this upcoming handset.
We've covered several leaked images of the Lumia 650, and then earlier this month some so-called 'confirmed' specs and images emerged for the device. While the specs are unexciting, the phone's design and build got a special mention. What many people want to know now is the all-important Microsoft Lumia 650 price tag, and now a Czech retailer listing seems to have given the game away.
The Microsoft Lumia 650 price on the Czech retail listing was CZK 5491 including taxes. At the time of writing that's equivalent to around $222, £155, €203, or Rs. 15,000. Do bear in mind that these are only indicators of prices for other markets, as pricing often varies according to region. The Microsoft Lumia 650 is expected to release in Q1 so we expect to hear confirmed details before too much longer. That might happen at MWC 2016 that takes place in February.
Unconfirmed specs for the Microsoft Lumia 650 include a 1.1GHz Snapdragon 210 quad-core processor, a 5-inch LCD HD display, 1GB of RAM, and 8GB of internal memory (expandable via microSD). It's thought to have an 8-megapixel rear camera, 5-megapixel front-facing camera, and a 2000 mAh battery with wireless charging. While the previously leaked unit lacked 4G LTE connectivity, there could also be an LTE model on the way. It's also likely that there will be both single SIM and dual SIM options, and of course it will be running Windows 10.
We'll remind you that the above leaked price and specs are all unofficial at this stage, but hopefully all will be made clear soon. Are you waiting for official news on this upcoming new Lumia phone? What are your thoughts on this leaked Microsoft Lumia 650 price?
Source: LAN-SHOP.cz
Via: WMPowerUser