Microsoft Lumia 650 specs seemingly confirmed plus new image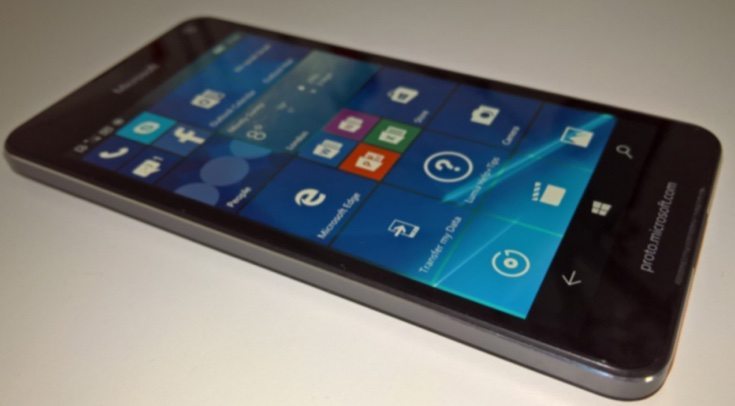 For several months now there have been growing leaks about an upcoming new Microsoft Lumia smartphone. Now the Microsoft Lumia 650 specs have been seemingly confirmed, plus a new image has emerged giving us a nice look at the handset. It's thought to be heading for a Q1 release, although at this stage we haven't heard any mention of a larger Lumia 650 XL variant.
The Microsoft Lumia 650 (codenamed Saana) is thought to be a mid-range Lumia running Windows 10 Mobile. We've previously shown claimed images of the device in both black and white colors, and last month some impressive renders appeared that were said to be based on internal Microsoft slides and reflective of the final version. Now a report from VentureBeat shows a new live image of the handset that you can see below and provides what are described as "confirmed specs."
The Microsoft Lumia 650 is a successor to the Lumia 640 that released in April 2015, but from the specs given in the new report there's not too much in the way of improvements in this area. The following details were provided by someone who has access to the Lumia 650 in the form of a prototype unit.
Specifications are cited as a Snapdragon 210 quad-core processor, and a 5-inch LCD display with HD resolution of 1280 x 720. Added to the mix is 1GB of RAM, an 8-megapixel rear camera, and a 2000 mAh battery. Although the battery capacity is lower than that of the Lumia 640 and also the recent Lumia 550, the handset is described as having wireless charging.
The unit in question lacks 4G LTE connectivity, although of course it's possible there may be another variant offering this. While the specs are nothing to get excited about, the Microsoft Lumia 650 design and build is at least described in glowing terms. In fact it's said to feel more luxurious than the high-end Lumia 950 and 950 XL.
There's also talk that the Microsoft Lumia 650 could be one of the final Lumia smartphones to release, with Microsoft thought to be more focused on developing new devices under its Surface division. If that turns out to be the case it's a pretty sad state of affairs that will sadden Lumia fans, although there's a lot of interest in the much-rumored Surface phone.
For now we'll caution that although the report describes the above specs as confirmed, this is still not official news from Microsoft which is why we used the term "seemingly confirmed" in our title. Nevertheless we accept that the VentureBeat report seems more likely to be accurate than not.
Are you eager for the official launch of the Microsoft Lumia 650? Would you be sad to see the Lumia brand wound down after so much popularity? Let us know with your comments.
Source: VentureBeat