New Samsung Galaxy J5 2016 specs from benchmark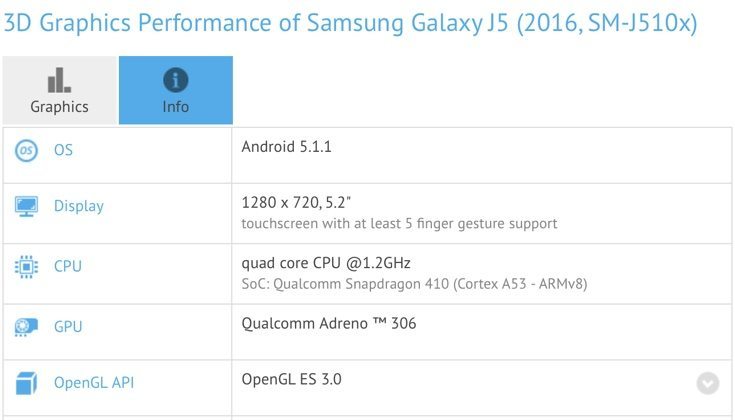 In the middle of last year we saw the arrival of the Samsung Galaxy J5. It seems it has been enough of a hit to warrant a successor, and we've already seen a prospective Galaxy J5 2nd gen show up in testing. Now we have news of the new Samsung Galaxy J5 2016 specs from a benchmark appearance.
Earlier this month a Samsung smartphone with model number SM-J510 showed up on an import/export site. It was being imported to India for testing purposes and looked likely to be the Samsung Galaxy J5 2nd gen, as the model number for the original J5 is SM-J500. That spot didn't give much away about the phone other than it had a 5.2-inch display, but this new sighting tells us rather more.
The GFXBench filing actually names the Samsung Galaxy J5 (2016) with model number SM-J510X, so the earlier assumptions seem to have been correct. Samsung Galaxy J5 2016 specs revealed by the listing include a 1.2GHz Qualcomm Snapdragon 410 quad-core processor, a 5.2-inch display with HD resolution of 1280 x 720, 2GB of RAM, and 16GB of internal storage. Further Samsung Galaxy J5 2016 specs disclosed from this prototype benchmarking are a 12 or 13-megapixel rear camera with LED flash, and a 5-megapixel front-facing snapper.
The phone is running the Android 5.1.1 Lollipop operating system, although this could have changed by the time it hits a release. As the phone is not official yet these specs cannot be treated as confirmed. However, if they are accurate the Galaxy J5 2nd gen will step up to a slightly larger display and have more RAM. As the current J5 hit the shelves in June last year, we anticipate the J5 2016 to arrive around the same month this year. We could always be surprised by an earlier release though.
Would you be pleased to see a next-generation Galaxy J5? What do you think of the leaked Samsung Galaxy J5 2016 specs as shown in this benchmark spot?
Source: GFXBench
Via: GSMArena