Xiaomi Mi 5 price rumor for four variants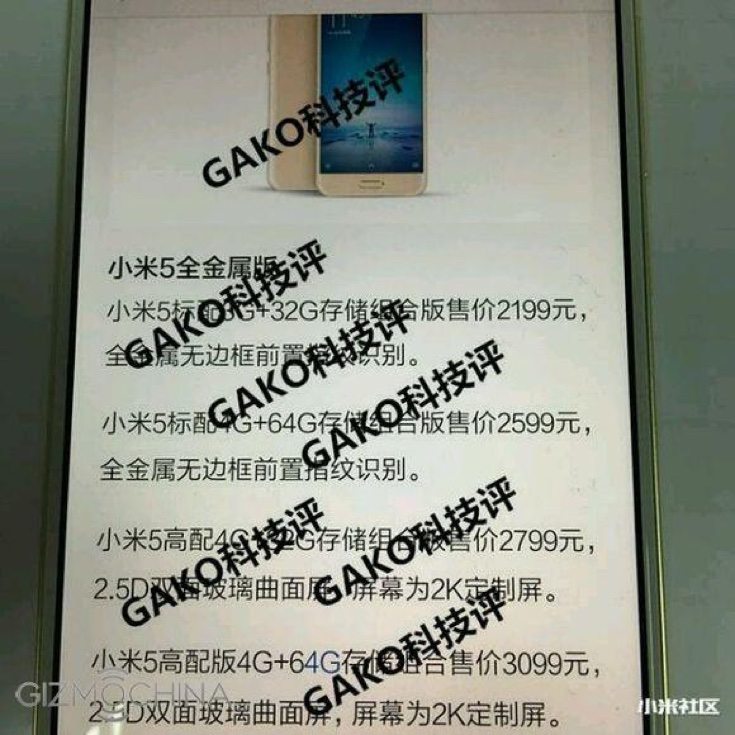 Xiaomi's next flagship smartphone is the Mi 5 and there have been leaks about the device for many months. It was previously rumored that there might be two versions of this device, but the latest leak suggests more. We have the details of a Xiaomi Mi 5 price rumor for no less than four variants of the phone.
In early January we reported on leaks suggesting that the Xiaomi Mi 5 would launch in February, and the company has now confirmed it will be officially announced on February 24. The latest rumor concerns the different design and memory models of the phone. To kick off it's claimed that the phone will be offered in two designs, one with a metallic build and another with 2.5D curved glass for the front and back.
For the Xiaomi Mi 5 with the metallic design, one variant will have 3GB of RAM and 32GB of internal storage and the price of this one is tipped as CNY 2,199 (around $335) according to the leak. The other variant has 4GB of RAM and 64GB of internal storage with a price of CNY 2,599 (around $396).
Alternatively the rumor says that a 2.5D curved glass Xiaomi Mi 5 will have a 2K (Quad HD resolution) display and 4GB of RAM. It's claimed this one will come in two variants of internal storage, a 32GB model priced at CNY 2,799 (around $426) and a 64GB variant priced at CNY 3,099 (around $472).
If this information is accurate it certainly clears up the confusion about the different models that will be offered. Do bear in mind though, that as with all leaks and rumors this is not confirmed so keep the proverbial salt pot handy. No doubt we'll hear further leaks before the Xiaomi Mi 5 launch in late February, and we'll bring you developments as we get them.
Are you a potential buyer of this upcoming Xiaomi flagship? What do you think of the Xiaomi Mi 5 price and variant news supplied by this latest tip?
Source: GizmoChina