BlackBerry Nova design shows industrial slickness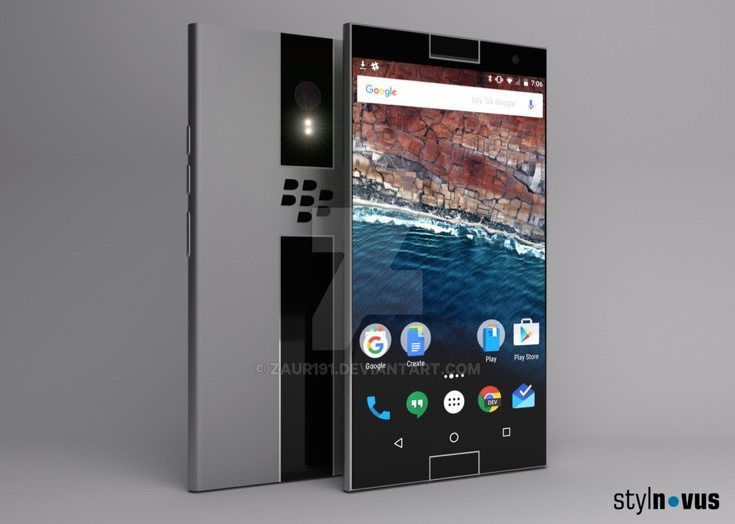 At Phones Review we enjoy checking out concept designs on occasion to tantalize ourselves with possibilities. There's not too much to say on this latest vision but we wanted to share it with readers anyway as we think it has a lot of class. Meet the BlackBerry Nova in a design that shows industrial slickness.
We see many concepts but not so many BlackBerry handset ideas. Sometimes we come across something that stands out in the crowd, and this BlackBerry Nova is one such concept. It comes from designer zaur191 over on DeviantArt, and as you might expect considering BlackBerry's recent direction, this smartphone is running Android.
Although this BlackBerry Nova handset has an angular blocky appearance, it still manages to look sleek and stylish. On the reverse you can see a racing stripe touch, familiar BlackBerry logo, and dual LED flash for the largish camera. Meanwhile on the front of the handset there's an edge-to-edge display and we imagine the rectangular area is a fingerprint sensor.
We can also see the control buttons on the side of the device, and the whole thing is wrapped up in a slim build that looks to be metallic. Sadly the designer hasn't given any idea of imagined specs for this BlackBerry Nova creation but you can be sure this would be a high-end device. If you enjoyed taking a look at this concept, you might also want to see a previous idea from the same designer, this time of a Nexus 7P.
We're particularly interested in hearing what you think of this new BlackBerry concept design. Is the BlackBerry Nova a device you might purchase if it were available right now, or maybe you think it's a little too industrial looking? Do drop us a comment using the box provided below.
Source: zaur191 (DeviantArt)
Via: Concept Phones