Project Ara gets benchmarked with an interesting display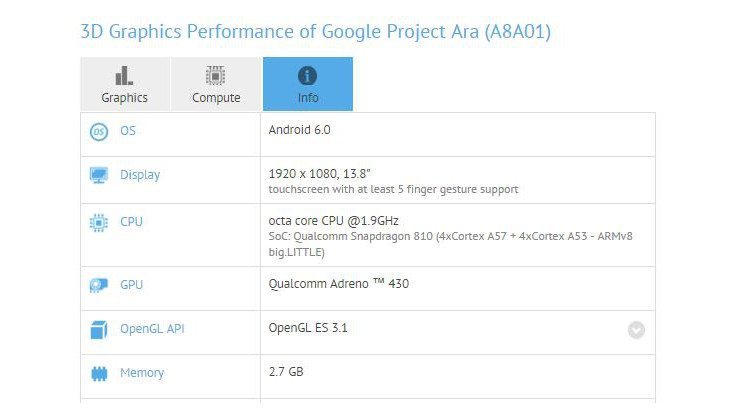 It's been a while since we've heard anything about Project Ara, and that hasn't changed although we do have some unofficial news. A device said to belong to the Project Ara lineup has gotten benchmarked, but it's the type of leak you'll want to take lightly.
It's been busy at the benchmarking sites with MWC approaching, and we've seen a large number of smartphones show up over the past few weeks. Most of those listings have been legitimate as they coincide with previous leaks, but that isn't the case with the Google Project Ara A8A08… unless they decided to switch form factors.
The device that's shown up on GFXBench has a 13.8-inch display with a resolution of 1,920 x 1,080. That may not seem strange if we were looking at a modular tablet, but from everything we know, Project Ara is a modular smartphone. The rest of the specs aren't nearly as odd, but a bit basic as it has a Snapdragon 810, 3GB of RAM, and 10GB or 25GB of storage. Those numbers are generally a fuzz off, but we haven't seen that combination listed before. The cameras are strange as well with a VGA and 0.3MP sensor.
As mentioned, you'll want to take the listing for the Google Project Ara A8A08 with a dose of salt as it doesn't sound like the device Google has headed our ways. Its modular nature could be a reason for that considering it can handle different components, but we're guessing this is an altered listing or a fake altogether. That said, we should hear something official on the Project Ara release soon as it's already past the original expected release date.
via – Liliputing       source: GFXBench