Samsung Galaxy S7 waterproof components reaffirm rumors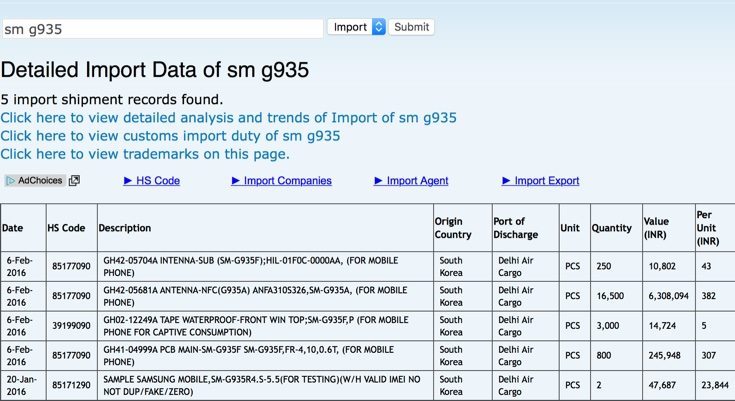 There seem to be fresh leaks about the Samsung Galaxy S7 and S7 Edge several times a day now, and the latest regards the idea of waterproofing. This has been a rumored inclusion for the upcoming S7 for some time and now Samsung Galaxy S7 waterproof components have shown up that reaffirm the rumors.
There have been plenty of specs leaks and more recently image leaks for the Samsung Galaxy S7, and it now looks clearer than ever that water-resistance will also feature. We'll remind readers that the Galaxy S5 offered water-resistance, but this was missing with the Galaxy S6. We often discover some finer details about upcoming devices on Indian import/export site Zauba, and the site is now the source of this latest news.
Two of the known model numbers for the Galaxy S7 and Galaxy S7 Edge are the SM-G930 and the SM-G935. Now various waterproof components have shown up for these model numbers on Zauba, seemingly laying to rest any doubts that the phones will in fact be water-resistant. The components include waterproof tape for the S7 Edge, while the Samsung Galaxy S7 waterproof components listed include a waterproof SIM tray and waterproof mic.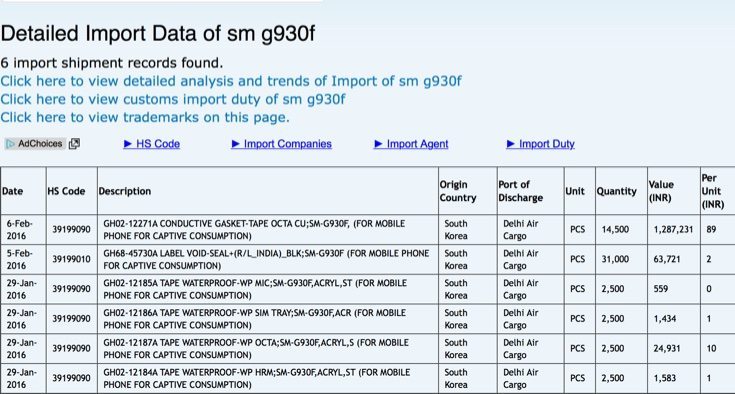 These parts arrived in India in late January and early February for testing purposes, and the first retail units are anticipated to be ready to release in March. Therefore it now seems virtually certain that the devices will offer some kind of water-resistance although that does not mean they will be fully waterproof. We'll be bringing all the news about the Samsung Galaxy S7 unveiling from the Samsung Unpacked event on February 21, so do check back with us.
Many Samsung device fans are eagerly waiting to see what the Samsung Galaxy S7 and S7 Edge will bring to the table, and news that they should offer water-resistance is likely to be well received. Is this a feature that would make you more likely to purchase the Samsung Galaxy S7 or its Edge sibling? Let us know with your comments.
Source: Zauba (1) (2)
Via: Phone Arena