LG H840 in benchmark could be LG G5 Lite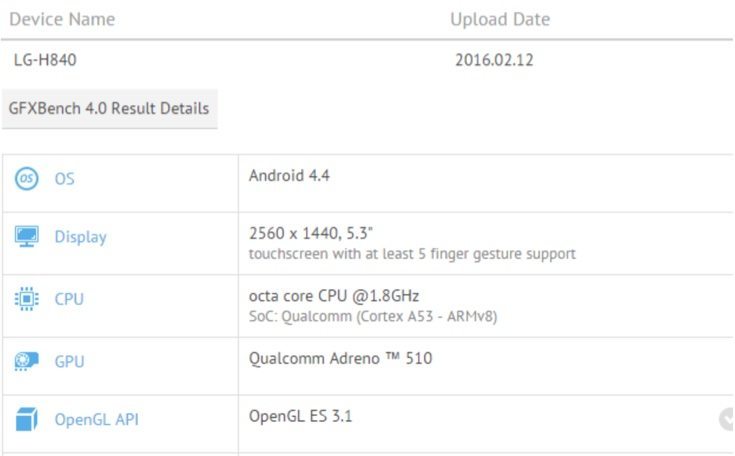 Now here's an interesting item for the weekend. The much-anticipated LG G5 is heading for its unveiling on February 21, and now a further new LG model has been spotted in a benchmark appearance. It's thought that the LG H840 could be an LG G5 Lite version, and the model number seems to bear that out.
The LG G5 flagship is thought to have model number LG-H830 and the model that has appeared in a GFXBench filing is LG-H840. Therefore it does seem very plausible that this is a variant of the LG G5. Looking at the specs revealed by the benchmark spot also suggests a 'lite' version of the phone, although still with very decent specs.
According to the documentation the LG H840 is packing a 1.8GHz Snapdragon 652 octa-core processor, Adreno 510 graphics, and has a 5.3-inch display with Quad HD resolution (2560 x 1440). Further specs disclosed are 3GB of RAM, and 32GB of RAM, which all sounds credible. After this though, things get a little doubtful.
Both front and rear cameras are listed as 8-megapixels, and although that's possible we imagine it would have a higher-megapixel rear shooter, which is also shown as having 4K video capture. As well as this the phone in benchmarking was said to be running Android 4.4 KitKat, and there's no doubt that's an error.
We're likely to hear much more about the LG H840 very soon, possibly at the pre-MWC 2016 LG event later this month. Of course we'll keep you up to speed on further developments as we hear them. Do you think the LG H840 is likely to be an LG G5 Lite?
Via: WinFuture.de (Google Translated) and GSMArena