Meizu Pro 5 Mini image leak shows more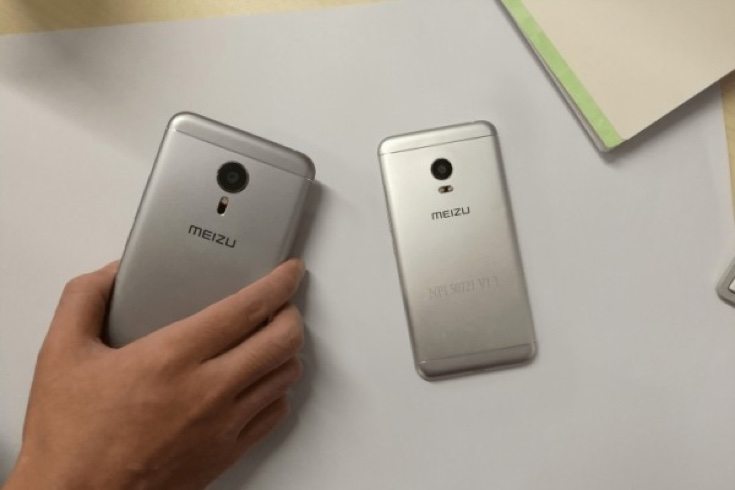 The Meizu Pro 5 launched in the later part of last year, and shortly after we reported on a specs and price leak for a Meizu Pro 5 Mini variant. This included a promo image that appeared to show the device although things have been fairly quiet since. However, today we have a Meizu Pro 5 Mini image leak that shows it alongside the regular Pro 5.
Meizu has still not announced anything official about the Pro 5 Mini, but it's rumored to be heading for a release around April. This new claimed image gives us a clear look at the Meizu Pro 5 Mini and its metal build, albeit only the back of the handset. The display of the Pro 5 Mini is thought to be 4.7-inches with Full HD resolution, and the new photo shows it against the 5.7-inch Meizu Pro 5 for a size comparison.
A clear difference between the two handsets is that the regular Pro 5 has the flash and laser autofocus sensors vertically under the rear camera. However, on the Meizu Pro 5 Mini they are positioned horizontally. We'll point out that this is different to the image on the previous image that we shared that also appeared to show them vertically, although that could have been an early promo in the planning.
Leaked specifications of the Meizu Pro 5 Mini so far include a Helio X20 deca-core processor, 32GB and 64GB models for internal storage, and a 20.7-megapixel rear camera. It's also thought to include a fingerprint scanner (the same as for the standard Pro 5), and it's expected to be running Android 5.1 Lollipop at launch.
The earlier leak tipped a price of CNY 1,999 (around $310) for the 32GB model or CNY 2,499 (around $385) for the 64GB variant. However, we'll stress that none of the specs or pricing have been confirmed yet, so need to be taken with a pinch of salt at this stage. Hopefully now this new leaked image has cropped up, it shouldn't be too long before we hear something official about the Meizu Pro 5 Mini.
Does the Meizu Pro 5 Mini sound like a smartphone that you might purchase yourself? What sort of price would you be willing to pay for the mini version of the Pro 5?
Source: cnbeta.com
Via: Android Headlines