HP Elite X3 Windows 10 phablet is official, release in summer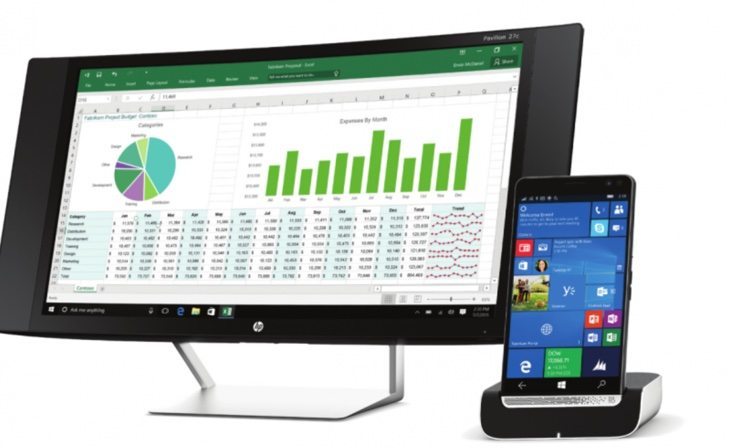 There have been several leaks recently about the HP Elite x3 Windows 10 phablet, and everything pointed towards this being a desirable high-end handset. Now the HP Elite X3 has gone official at MWC 2016, and we have further details on specs and features. Make no mistake, HP really means business with this new device that will release in the summer.
A few days ago we reported on a leak including images of this handset. Most of the specifications have panned out with the official announcement, including the Snapdragon 820 processor, 5.96-inch display with Quad HD resolution, and 4GB of RAM. However, internal storage is higher than expected at 64GB rather than 32GB, and this is expandable with microSD card to 200GB.
The dual SIM handset has a 16-megapixel rear camera and 8-megapixel front-facing unit, and features Bang & Olufsen front-facing audio speakers. Previously we had not heard the battery capacity, but HP has now confirmed a sizeable 4150 mAh battery with wireless charging capability.
The HP Elite x3 is aimed at revolutionizing the mobile computing experience with a new mobile ecosystem. The device is aimed at offering business users a handset that seamlessly spans a phablet, laptop, and desktop experience. The smartphone will also release with a fingerprint scanner on the reverse and an iris scanner at the front.
This handset features Windows 10 Continuum, enabling its use as PC replacement. HP is also aiming to resolve the problem of Windows 10 phones not being able to run full desktop apps, with the use of HP Workspace, an app catalogue. The Elite x3 is also dust and water resistant to IP67 certification standards.
Some optional accessories will also be offered with the HP Elite x3 including a Mobile Extender and Desk Dock. The Mobile extender has a notebook form factor with 12.5-inch display that can wirelessly connect to the phone. Meanwhile the Desk Dock includes one USB-C port, two USB-A ports, a DisplayPort, and wired Ethernet port.
HP has not specified the exactly release date for the Elite x3, simply saying that it will be available in the summer. Likewise the price of the HP Elite x3 and its accessories have not been announced. HP says further details will be available about this nearer to availability. Given the specs and capabilities of the HP Elite x3 and its mobile computing experience we expect there to be huge interest.
Are you a potential buyer of the HP Elite x3? If so are you interested simply in the handset or the whole mobile computing set-up that it offers?
Sources: HP AND mspoweruser
Via: The Verge