Sony Xperia Z5 Marshmallow update spreads worldwide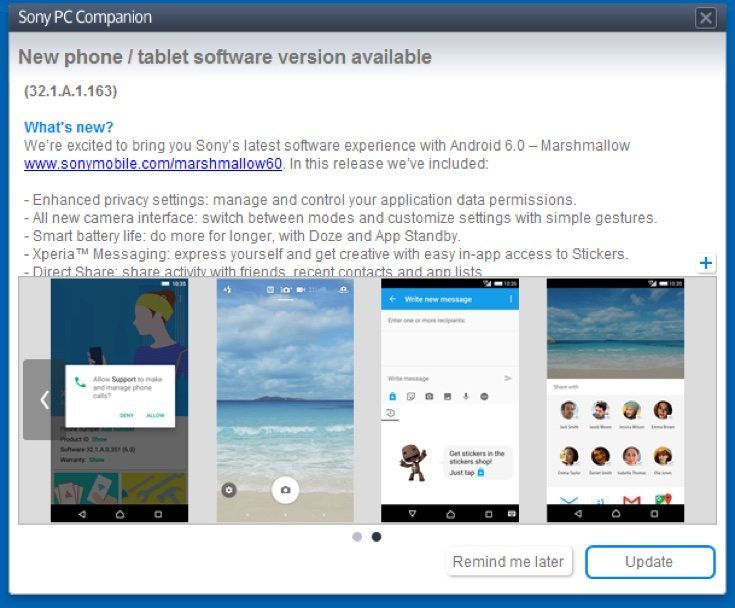 The Android 6.0 Marshmallow update is still rolling out to various manufacturers devices and last week we reported that this upgrade had arrived for the Xperia Z5 lineup in Japan. That indicated that it would also release for other markets soon. Sure enough the Sony Xperia Z5 Marshmallow update is now spreading worldwide.
It's always pleasing to be able to deliver good news about update releases, and now the Sony Xperia Z5 Marshmallow upgrade is being pushed out globally. In fact Sony announced on Twitter today that Android 6.0 Marshmallow is now rolling out for the Xperia Z5 series (includes Z5 Compact and Z5 Premium), the Xperia Z3+, and Xperia Z4 Tablet.
So far confirmed regions that are already seeing the arrival of the Sony Xperia Z5 Marshmallow update include the US, India, Algeria, MENA Arabic, Saudi Arabia, Malaysia, Thailand, and Russia. Don't worry if you're in one of these regions and have not yet received the update yet. They are often rolled out in phases over the course of a few days so you may need a little patience.
Now that Marshmallow is arriving for the Xperia Z5 in so many countries, we also expect further arrivals soon. We previously reported that Android Marshmallow was expected for the Sony Xperia Z5 in the UK from March 7. Therefore owners there might also want to check for updates. Models receiving the update so far are the Sony Xperia Z5 single SIM (E6653) and the Xperia Z5 dual SIM (E6683 and E6633).
#Android 6.0, Marshmallow rolling for Xperia Z5 series, Z4 Tablet & Z3+ – rollouts are phased, check locally & watch for the notification

— Sony Xperia News (@SonyMobileNews) March 7, 2016
The update is firmware version 32.1.A.1.163 and it's available at the moment via the Sony PC Companion app. It's also expected to be available very soon as an OTA (over-the-air) update. This upgrade brings a multitude of improvements and new features to your Z5. These include refreshed app permissions, Doze, and Google Now on Tap. Further changes include a refreshed camera interface, Direct Share, and sticker support with Xperia Messaging.
We're always interested in hearing from readers about OS update arrivals. If you have the Sony Xperia Z5 or any other Xperia device in line for the Android Marshmallow upgrade, do let us know when it receives the update.
Source: Sony (Twitter) AND GizmoBolt
Via: GSMArena