Alcatel Flash Plus 2 specs leak includes smaller display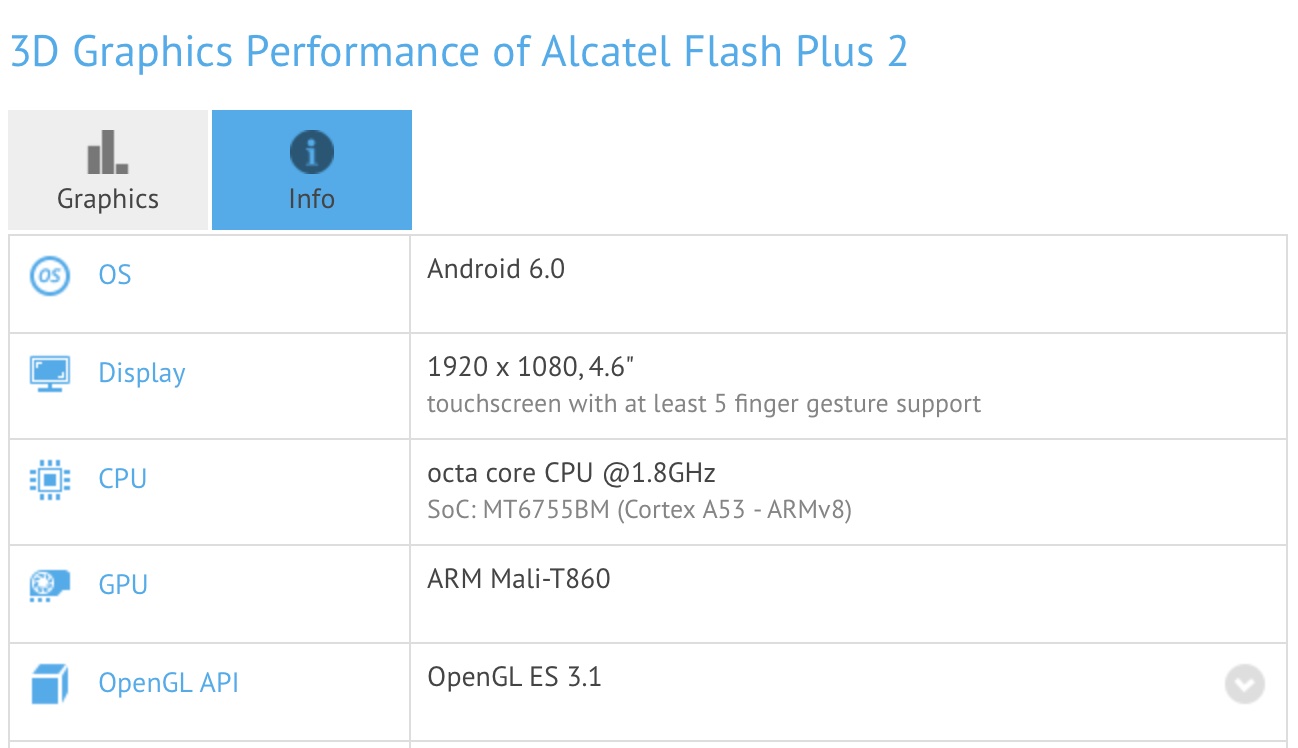 Some readers may have heard of the Alcatel Flash Plus that released in the first half of last year, and now the Alcatel Flash Plus 2 is on our radar. The latter has just shown up on a benchmark site, although strangely enough it appears to have a much smaller display than the original version.
Benchmark sightings are often the first time we see indications of upcoming devices, and the Alcatel Flash Plus 2 has just appeared in GFXBench documentation. This reveals specs such as a 1.8GHz MediaTek MT6755BM octa-core processor, ARM Mali-T860 GPU, and a 4.6-inch screen size with Full HD resolution of 1920 x 1080. It has 2GB of RAM, and 8GB of internal storage.
Further specs in the Alcatel Flash Plus 2 benchmark filing are a 13-megapixel rear camera with autofocus and LED flash, plus an 8-megapixel front-facing shooter. A nice bonus is that it's running the Android 6.0 Marshmallow operating system. This is a single SIM phone with WiFi, Bluetooth, GPS, proximity sensor, accelerometer, gyroscope and more.
By comparison the original Alcatel Flash Plus had a 5.5-inch display so it seems as little odd that the screen size of the Flash Plus 2 is listed as being so much smaller. However, the first of these phones had only HD resolution rather than Full HD. We'll be interested to hear more about the Flash Plus 2 from further leaks, and will keep you informed. For now we'll urge you that the above specs are unconfirmed so do bear that in mind.
Aside from the Flash Plus 2 there's plenty of focus right now on another Alcatel device said to be in development. The Alcatel Idol Pro 4 is rumored to pack a Snapdragon 820 processor, and rather than Android this one will be running Windows 10 Mobile. It's also expected to have 4GB of RAM, and rumors include a 22-megapixel rear camera and 10-megapixel front-facing shooter. Therefore it will be an altogether higher-end device than the Flash Plus 2.
If the above Alcatel Flash Plus 2 specs turn out to be accurate, would you have any interest in this mid-range smartphone?
Source: GFXBench
Via: Times News