Samsung Galaxy S7 Edge vs iPhone 6S Plus speed testing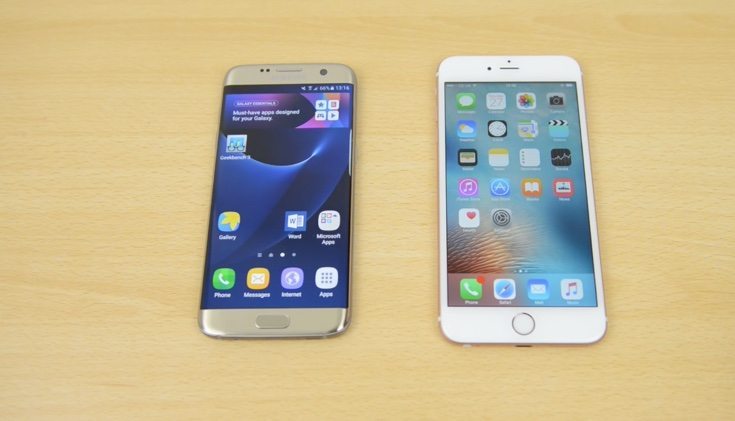 The Samsung Galaxy S7 Edge has just released to many buyers worldwide, and in the usual Android vs iOS debate it's main competition will be the Apple iPhone 6S Plus. Both are top-flight smartphones but the specs indicate that the Galaxy S7 Edge should be the better performer, on paper at least. To find out if that's the case we're looking at some Samsung Galaxy S7 Edge vs iPhone 6S Plus speed testing.
The recently launched Samsung Galaxy S7 Edge has some seriously impressive specifications. They include a Snapdragon 820 quad-core or Exynos 8890 octa-core processor with either Adreno 530 or Mali-T880 MP12 graphics respectively (regions vary). It has 4GB of RAM, and runs the Android 6.0 Marshmallow operating system.
On the other hand the iPhone 6S Plus has an Apple A9 dual-core processor, PowerVR GT7600 graphics, and just 2GB of RAM. It launched on iOS 9 now upgradable to iOS 9.2.1. On the face of it the Galaxy S7 Edge has the upper hand on specs, although we should remember that software optimizations can add a lot to the performance of a device. The above specs also apply to the regular Galaxy S7 vs iPhone 6S.
Below this article we've embedded a video showing Samsung Galaxy S7 Edge vs iPhone 6S Plus speed testing and real-world performance. The S7 Edge being used in this testing is equipped with the Exynos 8890 processor. The comparison begins by showing benchmark results for both handsets. In Geekbench 3 the iPhone has the edge over the Samsung phone on single-core scores but that's reversed with the multi-core scores.
The video goes on to show unlocking and fingerprint sensor speeds, and also how long it takes to launch the cameras. Following this you'll see web browsing speeds, and then apps being launched such as YouTube. The speed comparison also demos gaming apps being launched and how the phones cope with RAM management.
We're not going to give away all the results here, as we don't want to spoil the suspense for when you watch the video. However, we will say that there are some mixed outcomes and it's a closer run thing than we might have expected. When you've taken a look at the Samsung Galaxy S7 Edge vs iPhone 6S Plus speed testing video below, we'd be interested to hear from you. Were you surprised at some of the results of speed performance in this testing?
Source: SuperSaf TV (YouTube)
https://www.youtube.com/watch?v=D8V1XOdlDo4://