Samsung Galaxy S7 vs S6, S5, S4, S3 and S2 bootup speeds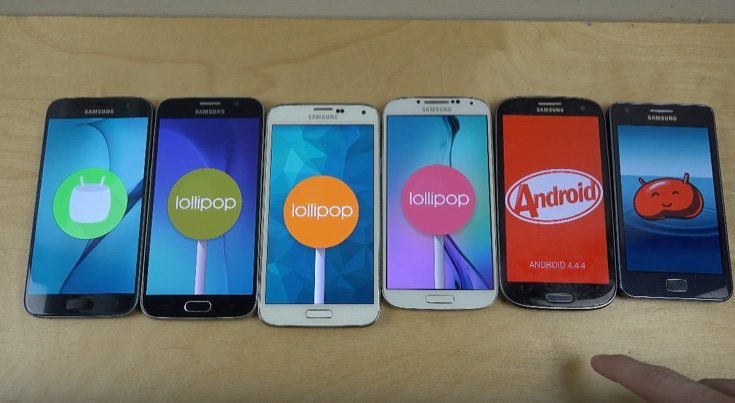 The Samsung Galaxy S7 is now making its way into the hands of early buyers, and many people are getting to grips with the new smartphone. We've already covered the new flagship on several occasions but sometimes we like to take a look at something a bit different that's fun and interesting at the same time. Meet the Samsung Galaxy S7 vs S6, S5, S4, S3 and S2 in a bootup speed test.
It's often intriguing to see how new devices compare with older versions. However, we don't see many comparisons that go back this far. The video that we've embedded below this article not only illustrates the differences in speeds but also reminds us just how far the Samsung flagship line has come since those early days.
The Samsung Galaxy S7 has just released and packs either an Exynos 8890 octa-core processor or Snapdragon 820 quad-core processor (dependent on region). It has Adreno 530 graphics or Mali-T880 MP12 graphics respectively and is equipped with 4GB of RAM. On the other hand the Samsung Galaxy S2 released way back in 2011. It was powered by a TI OMAP 4430 dual-core processor with PowerVR SGX540 graphics, and just 1GB of RAM.
The comparison video shows an informal boot-up speed test where all six of these Samsung handsets are simultaneously powered up to see which is ready for action first. Obviously it would safe to predict the winner will be the Samsung Galaxy S7, although we won't ruin the suspense by telling you the results before you watch the video. We will say though, that three of the handsets are very close and that the bootup test doesn't go exactly to plan.
When you've checked out the video below it would be good to know your thoughts. Given the disparity of the specs of the new Samsung Galaxy S7 vs S6, S5, S4, S3 and the old Galaxy S2, are you surprised that the bootup times are not further apart?
Source: Adrianisen (YouTube)
https://www.youtube.com/watch?v=_sOUhvsJgHo://